mITX Considered
Wed 01 May 2019, 00:11
It has been almost 3 years since I wrote Considering mITX, and now I have finally considered enough and now finally have a mITX system. But since then, 3 years ago, and now, I've actually gone through 2 different cases: a Fractal Design Define C and a Fractal Design Define R6. Both of which are great cases, but they had their annoyances with me.
For the Define C, I made the mistake of going with a windowed one. So I gave that case away to a friend who desperately needed a new one.
The Define R6 was actually a lovely case, if I ever need a full-size ATX again I'll probably just get that again. But right now my Plex server needs it more with its 7 mechanical 3.5" hard drives. I think it's gonna be a lovely case for that purpose.
So what did I end up with?
Well, I went with something pretty boring, a Fractal Design Node 304. I actually already had this case for my old NAS, and now for my backup server. So I just bought another one, because I kinda like it!
I was dreading building it a bit though, because I know how tight it is in there from my previous experience, and now I needed to shove a graphics card in there. But I saw this build video and it looked so roomy when he used a SFX power supply.
So, here's my current PC then, the part list if you will. Keep in mind that most of the parts I already had from my previous build. Only thing I bought new for this was the motherboard, PSU and case (and the case wasn't actually new, it was a demo unit, but it looks new.)
Case Fractal Design Node 304
Motherboard Gigabyte Z390 I AORUS PRO WIFI
RAM 2x 8 GB DDR4-3200 MHz G.Skill FlareX CL14
Graphics Card MSI GTX 1080 Ti FE
Power Supply Corsair SF600 600W 80+ Platinum
SSD A bunch of them... Samsung 970 Evo 500 GB NVMe, WD Black 250 GB NVMe, 750 GB Crucial SATA, 1 TB Crucial SATA...
Ideally I'd like to replace my 2 SATA SSD's with just 1 stick of M.2, but 2 TB M.2 sticks are pretty expensive, so I'm gonna hold off on that. This works for now.
The motherboard is also quite expensive and very unecessary, but I've learned from past experience I want Gigabyte boards incase I want to Hackintosh. Having a Z390 could be nice if I wanted a 9900K in the future for some dumb reason also.
Here are some pics from the build. The Oneplus 6T is a fantastic phone, except for the camera...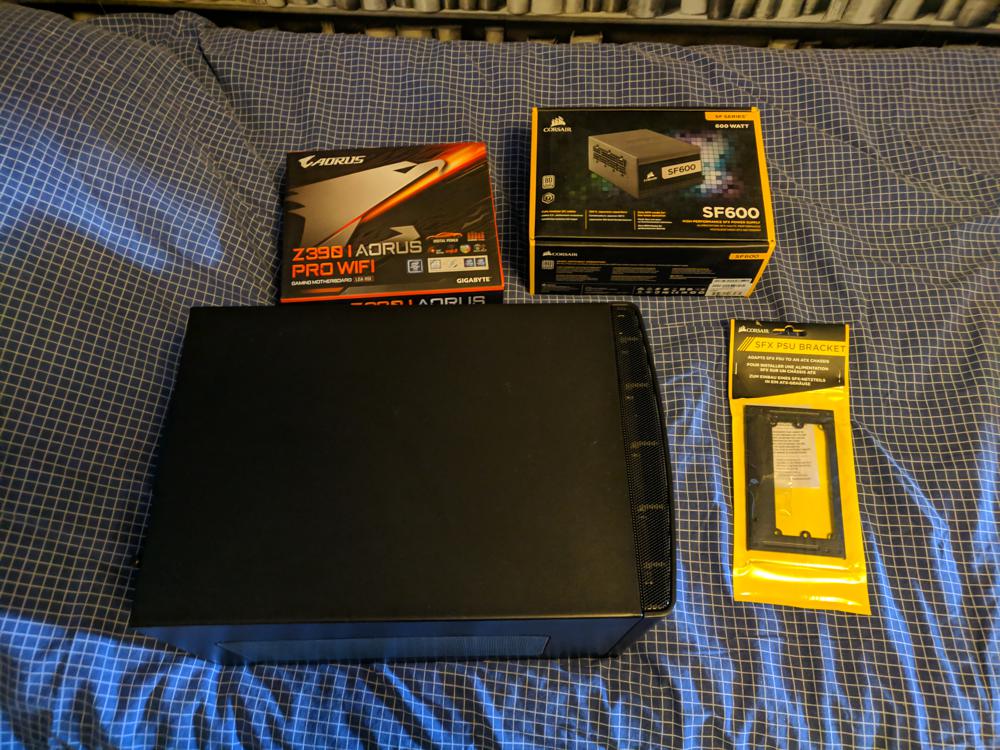 The parts I didn't already have.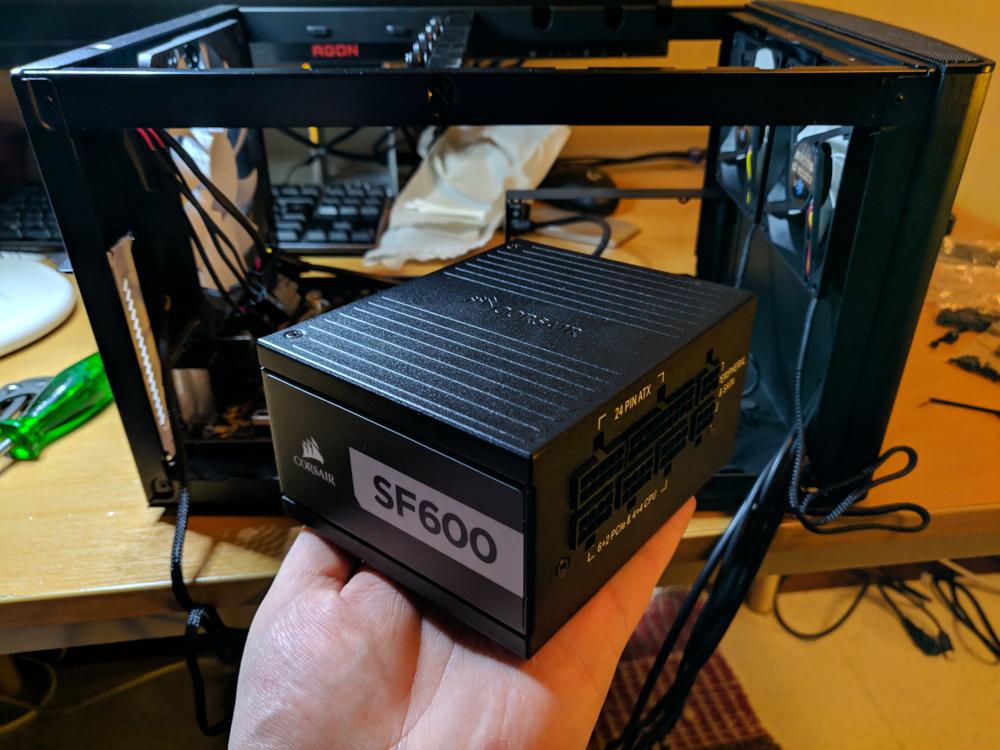 The Corsair SF600 is one of the main reasons why I finally went ahead with this build. It's so cute 😍.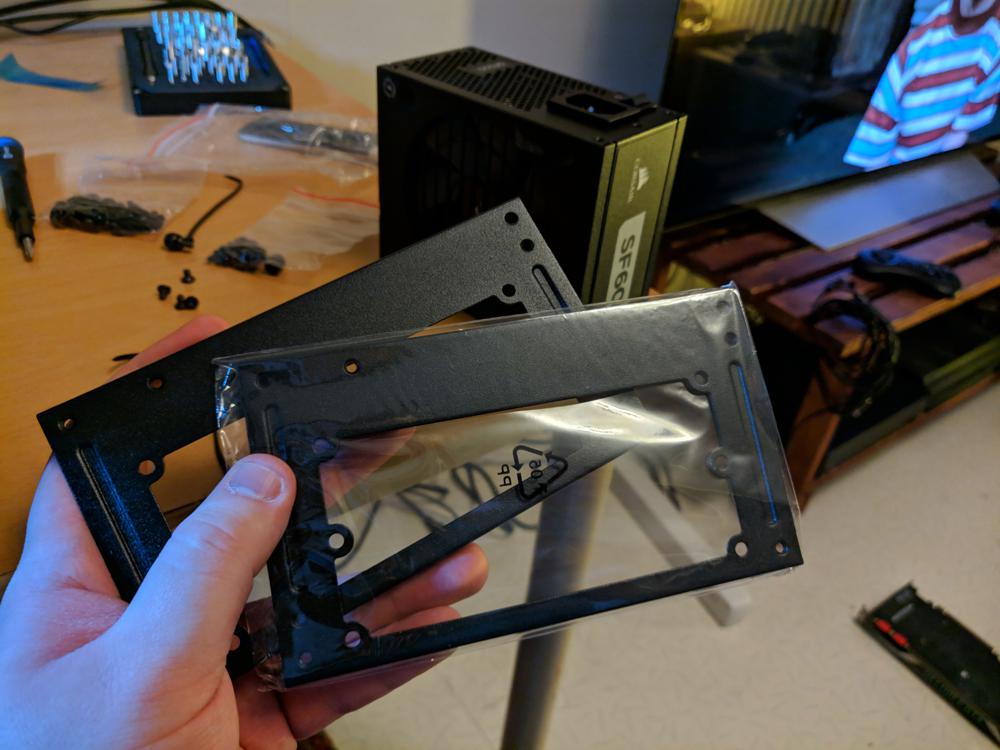 Although I wish I had read more closely, as I ended up with an extra ATX-SFF bracket 🤦‍♂️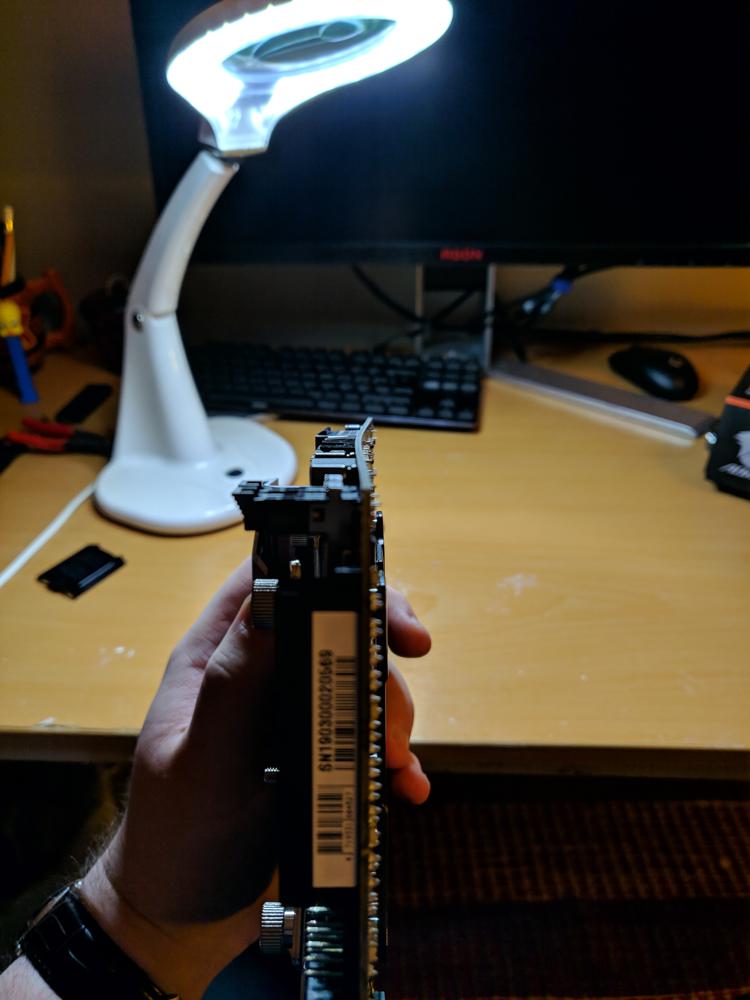 I had a feeling that I had broken the motherboard after putting the Noctua backplate on because it got super bent, but no it seems to work fine. I didn't use excessive force, just as the Noctua manual says.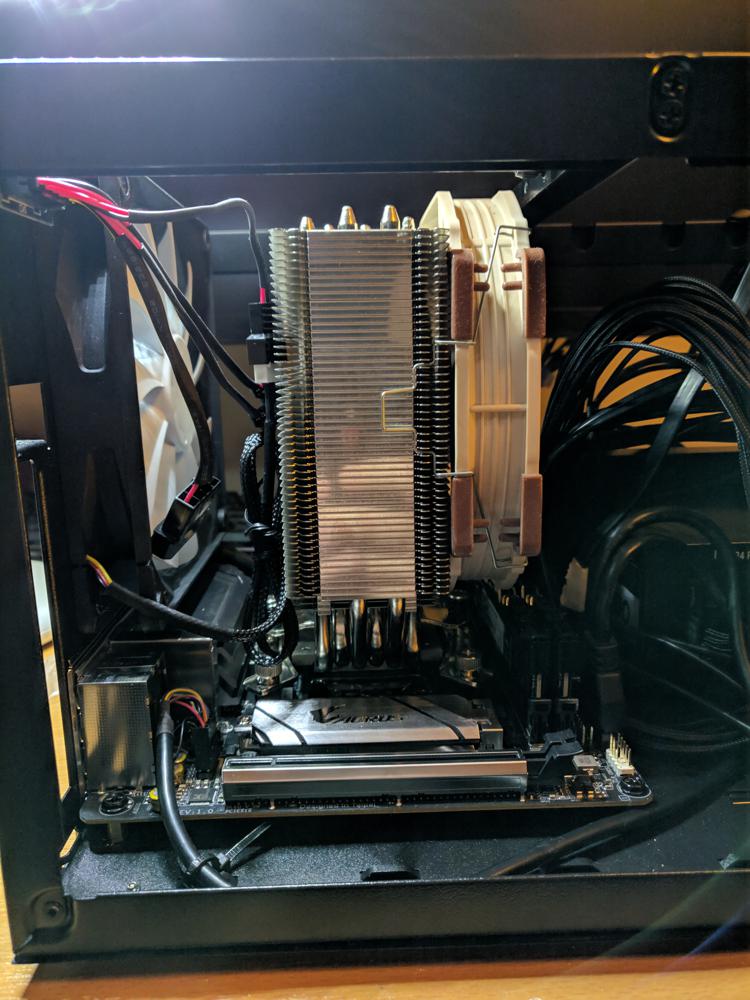 I've always had a thing for big Noctua coolers in small cases.
As you can see, my SSDs are mounted on those sticky pads. They're not great but they do the job for now. As I said, down the line, I want to replace them with one stick of M.2. instead. Unfortunately I have to take the whole motherboard out to swap that so hopefully I'll do it whenever I swap motherboard next...
And finally, the whole reason why I've wanted mITX for so long: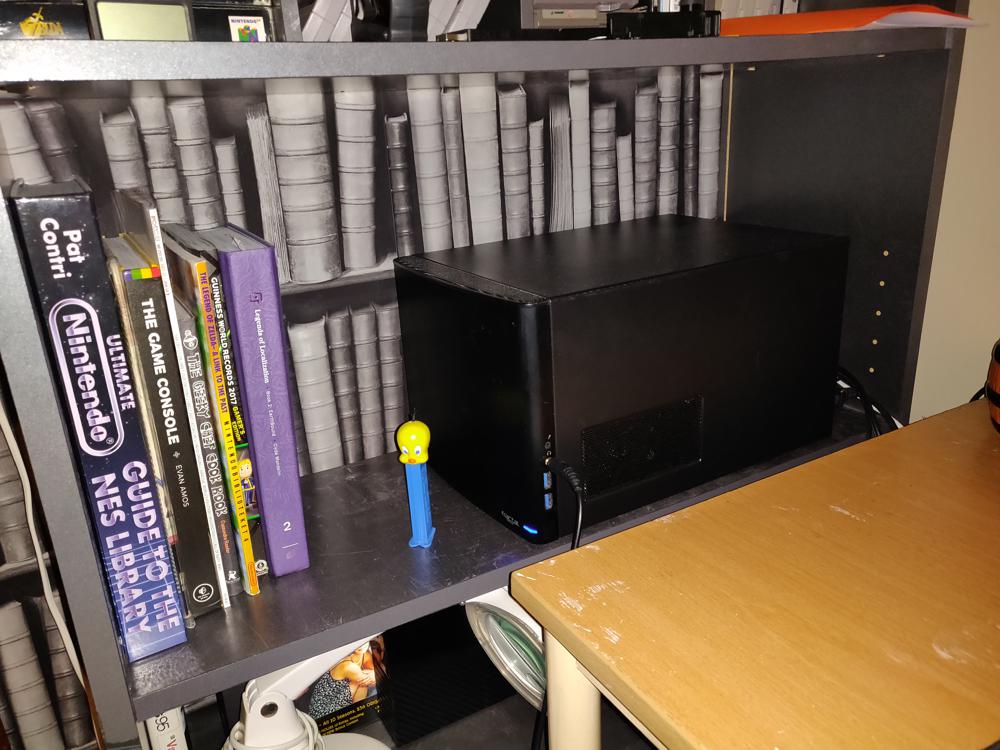 The computer fits in my shelf!
---
Down the line I'd like to try one of those even smaller cases, like the Ghost or Dan. But I find building in something this "big" already very frustrating so I can't imagine I would enjoy building in something even smaller. And I want my Noctua tower coolers so they won't work for me anyway. But they sure are neat.