Personal Notes on Friends & All of its Episodes
Wed 21 Dec 2016, 12:42
This right here should be the craziest post on this blog. Ever. I can't think of anything that could top it.
I am gonna talk about Friends, the 1994 TV show. I know I have already talked a lot about it. On my blog there have been several posts related to the subject:
... and of course, the post you are reading right now
And this is exactly why I decided to do this massive thing. I want to stop obsessing over this show. My thinking is that writing about every episode, and then editing the notes and reading them all over again will make me so sick that I will never wanna watch the show again. Will it work? Well I doubt it as I wanna re-watch the show again.
Obviously you should watch the show first before proceeding. You don't have to. If you hate the show and just wanna see how crazy I am, go right ahead and read all the notes. If you like the show, I'm not really sure you should read my notes either. The Trivia section on each episode's page at the Friends Wiki is probably more interesting. I could just include every entry they have into my notes but I don't want to. Instead I only included notes that I remembered in particular, or notes that I found interesting.
My notes are more of like thoughts that come up in my head. You could almost say each note is a Tweet I would like to send out. They are things I would like to note to someone who was watching the show with me, if we both were fans.
One thing you will notice is that every episode has varying amounts of notes. Certain special episodes will have a lot of them, and some will have none. Basically, the more notes an episode has, the more I care about the episode, either in a good or bad way. Generally I would like to say that bad episodes will have less notes than the good ones, as I made a lot of notes about what parts I found funny or interesting. I did not make a lot of notes about things that I found boring or mediocre.
Keep in mind that this whole post is over 20000 words. It did not feel practical for me to read through all my notes all over again to see if I made any mistakes. Therefore, there will probably be some mistakes here and there. If you notice one, please tell me. I will probably glance through it here and there and I'll fix them if I spot anything.
Also my mind fluctuates. Therefore it is very possible to will read me having one opinion, and then later on I will have a different opinion about the same thing. The mind fluctuates across 236 episodes. I haven't checked for consistency.
To efficiently navigate this long as post, I here provide a Table of Contents with anchor links, so you can jump around.
I've labeled the episodes by their title, and not by some TV structure like S01E01 or 1x01, because that would be ugly. TO stands for "The One" usually. TOW usually stands for "The One With" or "The One Where". You can probably figure out which it is. If you Google a episode, you can just search for "tow the monkey" for example, and the proper IMDB and Friends Wiki links will show up, and Google will also suggest.
Season 1
Pilot
Scenes are short and end abruptly. It's like one joke per scene at the very beginning.
Rachel's voice is weird
Rachel's part where she is talking on the phone in her wedding dress is also weird. It's just not funny or anything. "You're a shoe, you're a shoe, you're a shoe" - what does that even mean?
Weird part where sad song is playing and both Rachel and Ross stare out their windows. It's just so out of place in a sitcom.
Phoebe is weird and looks creepy as hell
TOW Sonogram at the end
Joke every other line, the first half at least
Chandler has his classic "You don't get a lot of doy these days"
Monica looks really good and is the least different from how she is later on
The R&R moment in the cafe is nice. There's something special about these early R&R moments.
The scene in the dentist room is funny. The kid/patient made it work.
We've established that Joey likes food
It's very well known, but in this episode we have a different actress playing Carol than who plays her for the rest of the show
TOW The Thumb
They discuss that the length of a mans penis is the distance between the tip of his thumb and tip of his index finger. I've actually had this idea for years, way before I watched Friends and I have even discussed it with some friends and we all thought it seemed pretty reasonable
TOW George Stephanopolus
I find Rachel saying "there's always gotta be that guy who gets 1 wish and wishes for 3 more wishes" weird, because Ross then looks over on her like "yeah you're totally right"
97 steps from C&J apartment to the cafe
When Rachel gets her first paycheck everyone claps and is like super happy for her. This is something I don't like about the earlier episodes in general - they are way too friendly.
The girls screaming loudly with Rachel is just annoying as hell (yes I know it's intentional). Turn down your TV.
Phoebe is starting to turn into actual Phoebe. She still looks slightly weird but her behaviour is starting to normalise.
Ross has a little bloodstain on his shirts neck when talking to the ER receptionist
TOW East German Laundry Detergent
I don't like how it cuts to Ross laughing when Chandler tells him to shut up about breaking up with Janice
Phoebe has almost found herself. Still sitting on the floor.
TOW The Butt
The scene where Ross starts talking about anthropology and the gang falls asleep is not funny. And they do it twice.
TOW The Blackout
The first really good episode, mostly because of the vestibule scenes with Chandler
First will-they-won't-they moment with R & R
Rachel is also great, until the Italian guy.
Sugarless gum
Gum is perfection
Phoebe is almost there. Her behaviour is there. She still looks a bit weird.
x264 really hates encoding this episode because it's really dark and the Blu-Rays have tons of grain
TOW Nana Dies Twice
I love how Ross steps up onto a table to hug his dad
When Ross finds a box of "grandma stuff" it begins like an emotional scene (suiting music etc) but then more stuff fall from the ceiling to break the tension. We'll see many more of these later...
I love the Rachel & high on painkiller-Ross moment
TOW Underdog Gets Away
Joeys VD poster in Times Square looks so out of place in the Blu-Ray version. It looks super sharp compared to everything else.
No one has keys to Monica's apartment, except Joey and Chandler with their spare. In the last episode all the friends return their keys to Monica's apartment.
The end where the friends are all like "yeah it's nice he got someone" and then pats each other is a typical Season 1 moment. I feel like they took the title Friends too literally.
TOW The Monkey
The whole idea of Ross having a monkey is just absurd. I hate it.
David is way too stuttery and nervous. I don't like him. His glasses are ridiculous.
The Phoebe and David scene where they sweep the table is just dragged out and annoying.
I love it when Rachel realizes it's a party and asks if people are eating her dip
Janice is kind of fun in this episode. Later on she is just plain annoying.
The scene where Phoebe and David break up is not an usual Phoebe scene
The audio is slightly desynced in the Blu-Ray version This turned out to be an issue with my TV's passthrough of AC3 Audio to my soundbar in OpenPHT. It's not an issue with Kodi. Weird I didn't notice it until this episode.
TOW Mrs. Bing
TOW The Dozen Lasagnas
The opening scene is bizarre. Who makes that much noise at a public place? Just in general how they treat the cafe like they're the chill owners is bizarre.
Paolo appears. Ugh. At least the other guys feel like me.
Rachel dumps Paolo
The way the camera zooms in on Ross at the end when he says he is having a boy is not suitable for a sitcom.
TOW The Boobies
In the opening scene when both Chandler and Rachel are surprised, you can see Chandler squeeze the juice box and juice fly all over the place
I think Phoebes boyfriend in this episode has the same glasses as David had earlier? Different colors on the frames, but same model it looks like
Joey seems to be very into cooking here. I don't think he is later on. Obviously he loves food later on but I don't think we see him cook again.
I like Joeys dad. Seems chill and not cringey to watch like parents usually are in sitcoms.
I don't understand why Rachel wants to see Chandlers thing. I understand it's for revenge, but do girls really wanna see things like stereotypical guys wants to see breasts?
TOW The Candy Hearts
I love the idea the guys have in the opening scene to return the egg. It's cute and smart
Janice is still fun here
When you watch the widescreen (Blu-Ray) version, you can immediately see Janice's head when Chandler wakes up. In a 4:3 version (original TV, DVD etc) it was more surprising, as you couldn't see her entire head until Chandler saw it.
TOW The Stoned Guy
I love Rachel's hair in the opening scene. Might be her best setup.
I have no idea what keyboard Chandler uses at work. Doesn't sound clicky.
"Ah, the lesser known I don't have a dream speech"
The guy who plays Steve, Jon Lovitz, has guest starred in other sitcoms I have watched: Seinfeld (guy who says he has cancer to get gift certificate from Jerry to buy a wig) and Two And A Half Men (jingle writer that wrote "Save the Orphans"), and he is also the family dad in Rat Race (2001)
TOW Two Parts
Ursula looks like Phoebe should
"Big Brown Bag" is an actual bag that Bloomingdales sell. That is a really cool bag.
Mr. Heckles is a good character. They should've kept him for longer.
The Blu-ray shows "previously on Friends..." at the start. The DVD version does not, as it is a single double-length episode there. (If memory serves, Netflix is also split up (as they too use the Blu-ray version) but they automatically skip to after the "previously on Friends..." part, but you can rewind and watch it if you want)
Even though it's combined to one single but double-length episode on the DVD, the subtitle at the intro (which says what episode it is) still says "The One With Two Parts - Part I"
I love how Phoebe surprises them by showing up all of a sudden, and then they surprise her
But then she gets upset over Joey not being there and it's all of a sudden not a sitcom (for 5 seconds)
The scene where Monica and Rachel imitate each other is fantastic - "We both do that!"
The end where the monkey wakes up and music plays is outright awful. To make it worse, it cuts to the producers names like they were so damn proud of that moment.
TOW All The Poker
Anytime any of the cast is on a Late Night Show or similar, this episode is brought up. Especially the "your flies open, Geller" part
They play 'The Lion Sleeps Tonight', and the monkey dances to it
They play it twice
"The fifth dentist caved, now they all recommend Trident"
"I just realized Joker is Poker, but with a J" -"Hey that's joincidence, but with a C"
TOW The Monkey Gets Away
The opening scene is incredibly short
Rachel's outfit when she is watching the monkey (who's name is Marcel btw) is really weird. I've never seen anyone wear anything similar. The bottom half is like a cheerleading outfit.
When the camera zooms out on Marcel sitting outside the window we can see that the pole that occasionally blocks the camera in Monica's apartment is gone. I thought it was already gone in TOW Two Parts, but it was back in TOW All The Poker.
Barry rushing in at the end is very annoying. Yet another will-they-won't-they moment.
TOW The Evil Orthodontist
Phoebes 5 letter radiator moment is awesome
TOW The Fake Monica
Ross finally have to get rid of his monkey. And everyone seems sad about it even though in reality we think it's long overdue.
Phoebe plays Gameboy. And looks into the camera while doing so.
They have a whole scene where they wave the monkey off. Jesus Christ people it's a monkey.
TOW The Ick Factor
"The Ick Factor" sounds like a Seinfeld episode
This is when Phoebe really starts to shine
Did people really run with Walkmans like that? It looks incredibly uncomfortable
At this point the will-they-won't-they moments have pretty much taken you hostage and has made you addicted to the show
TOW The Birth
In the hospital waiting room Chandler sits with his legs/feet up on the couch and Rachel sits with her legs up, feet on the chair. Is this socially acceptable in a waiting room?
Not the last time Joey gets too involved with women who's giving birth or have just given birth 🙄
"What are you gonna do? Suck the door open?"
I hate births in sitcoms. There are gonna be a few more of them across show so let me explain why:

The actor who is playing the lady who is giving birth always screams and looks sweaty. Sure this is probably how real life birth giving works too, but it's just disturbing to watch.
Because they are screaming you have turn your volume down if you are playing through speakers
They take place in hospitals, not a very fun environment

At the very end we see the gang from the perspective of Ben. It's kinda gross to see Ross' face from this angle. The scene goes on for too long as well. Way too long.
TOW Rachel Finds Out
In Seinfeld there is a bit about how someone doesn't appreciate a gift if they say out loud what it is when they've opened it: "Oh... Tube socks". Rachel does it here with Travel Scrabble.
Chandler is hilarious when he accidentally reveals Ross' love
So sad that Rachel didn't manage to give Ross her message
Joey getting a bunch of fruit baskets is similar to how Sheldon gives Penny a bunch of gift baskets in The Big Bang Theory in one of the Christmas episodes
Rachel going to pickup Ross is beautiful
Lauren Tom, the Chinese girl, is also the voice of Amy in Futurama
Overall thoughts on Season 1
This is probably the best Season 1 of any sitcom I've watched, except maybe Two And A Half Men.
No it's not. It's a terrible first season. Everyone is weird and it's never funny, except a couple of zingers.
Compare to Seinfeld where Season 1 is just plain boring, or Season 1 of That 70s Show where the scene transitions are flowers being popped and everyone looks and acts weird. Or The Big Bang Theory where Sheldon has a crush on Penny.
I think Two And A Half Men's Season 1 is slightly better because Jake is awesome when he is a child and neither Charlie or Alan fundamentally changes from how they are in Season 1.
The things that are most weird in Season 1 of Friends is really just the way Phoebe looks, the monkey and how the Friends are overly friendly with each other. Rachel's voice is also a bit weird but that's a nitpick.
I also think the story of the show changes from here on. Season 1 is basically just about establishing grounds and minor short stories, and Ross having a baby. The rest of the show is about Ross & Rachel.
Also, Chandler is the unsung hero of Season 1. He has a punchline almost every other line and it works. Monica is fantastic too.
Season 2
TOW Ross's New Girlfriend
Rachel seeing Ross' new girlfriend is heartbreaking. Actually they turn it into comedy pretty fast but internally you're going "oh no"
Phoebe finally looks like she should
Actually, everyone and everything looks like it should. Something is just different about the picture quality overall
Roles have switched with Ross and Rachel. In Season 1, Ross wants Rachel. Now, Rachel wants Ross
Paolo makes an appearance. For the last time though
Not the last time Rachel makes someone screw up their hair
TOW The Breast Milk
When Julie helps out in the cafe, Rachel quietly says "what a bitch" and then the camera cuts to Chandler smiling. I hate shots like that. It's like the show is telling you to laugh, but isn't that what the laugh track is for?
The ass in the background really sticks out for some reason. I think her jeans are too bright. Joeys gesture doesn't help either. It's less of a problem in a 4:3 version.
"Did you just say "Hi Jew?""
You can sometimes forget this show takes place in the 90s until you see a phone, or Rachel wearing a denim dress with straps
I love how the guys slide the juice glass across the counter
I really like the scenes with Rachel in the cafe. Both the one where she and Monica (and Phoebe) hugs, and the one where she talks to Julie.
TOW Heckles Dies
Every sitcom needs a girl with (visible) Adam's apple joke 🙄
I like the janitor. Same actor that bought shirts from George in Seinfeld
I don't like the Phoebe and Ross evolution drama. It's just annoying and doesn't go anywhere.
Chandler waving Heckles apartment at the end is weird. He almost had the least to do with him.
As I said earlier in some episode, I wish they hadn't killed off Heckles this early
Overall a pretty terrible episode
TOW Phoebe's Husband
I love the opening scene with Rachel. Very cute.
Julie wasn't in the previous episode. You almost forget Ross was with her.
Ross asks Chandler to refill the milk and everyone thinks it's hilarious. It's not.
The scene at the end with Ross and Rachel is kind of weird to watch. I'd call it another will-they-won't-they moment.
TOW Five Steaks And An Eggplant
The girl on the phone says it's her legs on the new James Bond poster. This episode aired in 1995, so the new James Bond would be GoldenEye. I googled for GoldenEye posters and I couldn't find a single one with visible human legs.
The title of this episode is seemingly random but it's what the gang eats. Phoebe is vegetarian so she eats the eggplant.
TOW The Baby On The Bus
When Ross tongue is swollen he sounds like Blaine Cody in Rat Race
Phoebe singing the rinse, repeat song is actually awful to listen to. I turned my volume down a bit.
Lea Thompson (Back to the Future) is the red haired woman asking Chandler and Joey what agency they used
Dr Carlin is also the doctor in Seinfeld (The Junior Mint)
The actor who plays Stephanie is an actual musician, Chrissie Hynde
In the uncut DVD version Stephanie sings for a full 4 minutes and it's really dragged out. I prefer the shorter Blu-ray/broadcast version (it's like <30 seconds)
The condom guy is Phoebes brother later on
Ross says "I hope Ben gets a little sister" 🤔
TOW Ross Finds Out
Rachel is great at her date
The phone makes the show seem really old
The R & R phone scene is both funny, cute and heartbreaking. I wish all the drama scenes where like this one.
I'm surprised there wasn't a laughter after Rachel yelled "now I got closure"
R & R finally kissing is fantastic. Even though it's my 4th time watching, I still get tense waiting for it
TOW The List
Chandlers computer is bad ass
I wonder if Jennifer Aniston's ankles are a bit chubby? Very random thing to come up with by the writers otherwise
Joey's excitement is just like mine
The hug is so sweet... enjoy it while it lasts
The novel scene is hilarious but oh so sad at the same time. I too hate printers.
Their relationship is really off to a rocky start. Actually I wouldn't even say their relationship had started; one kiss and a hug isn't that spectacular
Monica says she's allergic to cat hair. It's good that Rachel got a cat without fur in a later episode then
Probably the best episode so far
TOW Phoebes Dad
Ross and Rachel doesn't seem to be too unfriendly in Monica's apartment during the opening scene, compared to how they are in the cafe afterwards
Christmas hug seems really unnecessary
TOW Russ
So weird how Ross hugs/holds Monica from behind when they're talking about the wine consumption. Is that common practice among siblings?
Russ truly looks scary
Estelle is hilarious. I can't remember if this is the first time we see her in the broadcast version. You see her early in Season 1 on the uncut DVDs
We see Joey cooking again. So my earlier comment in TOW The Boobies is wrong.
Guest starring Lauren Tom in the credits pop up just as Julie walks in
TOW The Lesbian Wedding
This episode aired the day I was born
This wall on the left is kind of in the way, in the widescreen version. This actually happens a lot of times in the widescreen version. The show was intended to be viewed at 4:3 so you can't really blame them
I love the accent Phoebe puts on
Speaking of Rachel's haircut, I don't think "The Rachel" is that nice of a haircut for Rachel
Rachel's mom is really fun. The dancing, the marijuana, the "what's new with sex"
"Monica, I feel like you should have German subtitles"
Big Boo, well the actress, from Orange Is The New Black makes an appearance
Fantastic episode overall. The only boring part was the actual wedding.
TO After The Super Bowl Part 1
The title of this episode doesn't really make any time after it originally aired. Basically it originally aired right after the super bowl back in 1996.
Phoebe's grandparent song is hysterical
This episode is pretty perfect until they started singing the jungle song
TO After The Super Bowl Part 2
The first minutes (the outdoors scenes) are terrible
The girls fighting is one of my favourite scenes, mostly because of Phoebe
Third-date-sweater seems like a Seinfeld thing
TOW The Prom Video
Phoebes lobster thing is adorable
Ross way of ruining Rachel's talk with the guy was kind of a dick move. Good that he did that though.
Chandler is hilarious when Joey returns to the apartment
When the camera sways to Ross looking cool with his moustache, I always laugh. Everyone does.
The whole prom video and Ross is just so sweet
Of course the crowd goes insane when Rachel kisses him. I go insane too, internally.
TOW Ross and Rachel... You Know
The title of the episode is kind of cringey
"It's James Bond!" - by now you should start to realise Phoebe is easily the best character of the show
Rachel laughing when kissing Ross is brought up in a much, much later episode
Monica dating her fathers friend is kind of gross
In the auditorium where R & R look at stars they play 'Wicked Game' in the background. I prefer H.I.M.'s version of it a lot more.
This episode is kind of annoying because of R & R, a lot of kissing and romantic stuff. It's very nice they're together though, I'm not complaining
TOW Joey Moves Out
Monica's performance in the bathtub is great. You can really feel her.
I don't think Rachel's tattoo is ever referred to again
TOW Eddie Moves In
I don't like black toilet bowls. I've tried one at a restaurant and they're scary.
Yasmine Bleeth and Matthew Perry (Chandler) dated
Ross lies like a cat next to Rachel in the cafe
We have another one of those ridiculous window scenes
TOW Dr. Ramoray Dies
Some subtitles and other places spell it Ramorez. Personally I prefer that.
I don't mind Eddie. I know other people dislike him.
I don't understand why Rachel said "Phoebe's dead". Is she saying "you're dead" for Monica?
Richard and Ross' small talk is hilarious. The Deer Hunter argument is not.
I think Joeys apartment uses the same scene/set as Phoebes apartment?
TOW Eddie Won't Go
When Ross reads Joeys VISA bill and is being realistic Joey gets mad and it's a weird scene. It's like drama but not really.
First interaction with Gunther
Paul is Paul The Wine Guy from the very first episode
TOW Old Yeller Dies
The way Rachel holds Ben is adorable
For being old, Richard is kinda weird. He sits with his legs up on the table and calls Phoebe "Pheebs"
TOW The Bullies
The outdoor scenes in the taxi look much better than other scenes. It's so bright and vivid. You can also see the reflections of a camera in some scenes and the hair of the dog trainer in one scene.
Rachel's eye is awfully red
TOW The Two Parties
This is the episode I have watched the most. This is my go-to episode when showing the show to new people. It's not the best episode, but it gives you a pretty good idea of what the show is like. It's 90% comedy and 10% drama.
One thing I find weird is that every time the gang throws a party they invite a bunch of other friends, which we never hear or see otherwise. And even then, once the "outside" friends are at the party they're only talking to the other outsiders.
Phoebes laugh when Rachel's mom is talking to her and Joey looks out is the best
When Ross is pouring Rachel's dads drink, the mother says "scotch neat" as Ross is pouring it. How did she know it was gonna be neat? Maybe Ross throws in the ice afterwards?
I think Joey kissing the mother at the end is his best moment
TOW The Chicken Pox
Charlie Sheen is in this episode. I don't really like him anywhere that isn't Two And A Half Men
Ryan coming out of the bathroom with ovenmitts and saying "Well that wasn't easy" is really funny
Rachel's hair looks more blonde/bright in the outro scene
TOW Barry And Mindy's Wedding
Phoebe agreeing to kiss Joey to help him shows you what a good friend she is. Everyone should have a friend like her.
The whole wedding reception scene is just weird. It's just so unreal.
Overall Thoughts on Season 2
This season is a big step up from Season 1 in terms of the shows flow: it has found its flow. If you watch a later season, let's say 8, and then go watch season 1 you're immediately gonna feel uncomfortable as everything and everyone looks different, and acts different. But if you go from 8 to 2, you will feel pretty home. Everyone looks like they should and behaves like they should.
The first half is great. We're waiting for the inevitable: R & R getting together. We think they do in TOW Ross Finds Out, but then in the next episode Ross screws up and we don't know if it will happen (the will-they-won't-they addiction). And then finally it happens in TOW The Prom Video and we're all happy and very satisfied. But now our will-they-won't-they addiction isn't getting anything and we just find the show second plain boring and very mediocre (except TOW The Two Parties). As you can tell from my lack of notes, the episodes aren't very noteworthy - they're just very mediocre, they aren't good or bad.
One nice thing about Season 2 is that it's the only season that doesn't end with a cliffhanger.
Season 3
TOW The Princess Leia Fantasy
This is the first of three episodes that I have re-extended. Unfortunately all three of these re-extensions are kind of useless as I used the wrong settings to de-telecine DVD footage and because of that the DVD sections appear very laggy.
Monica being all torn up in this episode is really funny. We don't see her like that often.
I just realised Rachel's navy uniform fetish has something to do with her dad as he was into boats
Janice is kind of fun in this episode. She is almost annoying but tolerable.
"The girl at the Xerox place with the belly button ring" will become relevant later...
TOW No One's Ready
This is another episode that a lot of fans on Reddit (/r/howyoudoin) and other circles consider to be the best one. It is a very good one.
This is the second of three episodes that I have re-extended. This was actually the first one I did. For this episode I created a comparison
Rachel is wearing 1 black and 1 white sock
Phoebes phone message when she is already there is fantastic
TOW The Jam
Joeys bed bouncing was written in as he did injure his arm during filming of another scene and did break it (I haven't been able to figure out which scene)

It is revealed here that it was dislocated during the previous episode, TOW No One's Ready when Joey and Chandler were racing for the comfy chair

The stalker looking for Ursula is played by David Arquette who later becomes Courteney Cox's (Monica) husband (until they divorce many years later)
Monica says she needs a guys best swimmers. This is actually true as her uterus (or something related) is an inhospitable environment, which we find out much later.
TOW The Metaphorical Tunnel
Phoebes phone dialect, like all her other dialects, is great
R & R being together isn't really shown much in this episode. And Rachel even advices Chandler on how to deal with breakups
TOW Frank Jr.
I read somewhere Matt LeBlanc (Joey) likes working with wood in his free time too
As I pointed out earlier in TOW The Baby On The Bus, the guy who runs back to get his condom from Phoebe, when she is outside playing music, is Frank Jr
Phoebe's birthday is February 16th
Frank Jr's birthday is October 25th
I'm not a fan of Frank Jr. He's extra bad in this episode but later episodes he is a bit better, but I still don't like him in those episodes either
TOW The Flashback
I honestly have nothing to say about this episode. I think there might be some continuity issues but it's fine. It's a good episode all around.
TOW The Race Car Bed
The very first scene/line I heard in this show was Phoebe saying "you know in England this cad would be in the other side of the store." It happened to be this scene as I had downloaded the show and I wanted to check the quality, and I know from experience the first season usually looks very different picture quality wise so I wanted to pick an episode where the show had started rolling, and it happened to be this one. And I happened to jump to this scene.
Ross and her dad making fun of Rachel's uneven legs is hilarious, but you feel kinda bad for Rachel
Now that R & R are together, I think the writers were trying to make us feel for Chandler and Janice, but unfortunately we don't care about their relationship at all.
TOW The Giant Poking Device
The pole in Monica's apartment that occasionally blocked the camera in Season 1 is suddenly back, so Ross can run into it
The outro scene is another one of those where you turn your volume down
TOW The Football
This was the third and final episode that I initially re-extended
There's something very wrong about hearing "Get Ready For This" by 2 Unlimited in the year 2016. It makes you cringe, and remember how old this show is.
TOW Rachel Quits
I really liked Rachel as a waitress so I'm not the biggest fan of her quitting
Phoebes obsession with Christmas trees fulfilling their missions is cute. It's a typical Phoebe thing.
TOW Chandler Can't Remember Which Sister
When Rachel is done stirring the coffee for the fashion guy the stick bounces and lands on the floor. Didn't look intentional as she quickly tries to grab it.
Ross accusations of Mark and not trusting Rachel is the first downfall of Ross & Rachel's relationship
Chandler trying to figure out who Mary Angela is at the dinner table is one of his best scenes
TOW All The Jealousy
I think Ross' reason for being so suspicious is legit
TOW Monica And Richard Are Just Friends
Ross and Rachel are no longer kissing in the intro
Richard takes Monica's panties. Genuinely creepy.
This is a very good episode overall. Probably the best one so far. It's only in the very beginning you get the sense that R & R's relationship is shaky, after that there's nothing about it
TOW Phoebe's Ex-Partner
I always think of the musician from TOW The Baby On The Bus when I read the title of this episode
I also feel sentimental watching this episode because it's the last episode where R & R is together
Sticky Shoe is obviously just a remix of Smelly Cat. Kinda lazy by the writers.
Rachel's "what I just heard: blah blah blah blah", is not funny. This show does a lot of those and I don't appreciate any of them.
"Jingle bitch screwed me over" is a great song. It's so sudden that I always laugh out at it.
TOW Ross And Rachel Take A Break
What the writers are going for is pretty obvious, they don't want you to side with either and hate the other one. They want you to see it as a big misunderstanding, from both sides, so you won't hate either character, and I think they did a great job.
Interestingly, this (and the next episode) is not a single double-length episode on DVD. These "To be continued" episodes are usually single episodes on the DVDs (not on the Blu-rays, as those are the broadcast versions)
TOW The Morning After
I have no idea what the official title of this episode is
The previous episode was about feeling bad for Ross. This episode is about feeling bad for Rachel.
As per typical drama episodes in sitcoms, it alternates drama with jokes. At the peak of a drama scene something unexpected funny happens to break the tension.
Rachel is the first to say "we were on a break"
Apparently, both Aniston and Schwimmer cried after filming this episode
It's very relieving to have watched this episode, because now you're clear of drama for a long time
At the time, the reason the writers broke up Ross and Rachel are:

They thought it was funnier when they weren't a couple, and I agree, it is more fun when you don't see R & R kissing constantly or saying "hi honey" the whole damn time
They didn't want the show to just be about Ross and Rachel, they wanted to have some major plot lines for the other characters as well (we'll get to those eventually)

Overall, I dread watching this episode (and the previous) because I don't remember them being enjoying to watch, but honestly it's mostly psychological. Watching these episodes now (my 4th rewatch) I found them quite funny. It's really only the last minute that is not funny at all and is just dead serious, in both episodes.
TOW The Ski Trip
In a way, I think this is the first episode of Friends. The show kind of restarts. Just as we wanted Ross and Rachel to be a couple in Season 1/2, we now want them to be a couple again. Unfortunately, if you're new to the show this episode isn't really a good place to start as it isn't particularly funny
This is a good post-breakup episode. In shows like That 70s Show, the post-breakup episode, after Donna and Eric have broken up, is terrible. Basically, an angel shows up and takes Eric to an alternative universe where he and Donna never got together, and it's a terrible episode. This episode deals with the fact that they're broken up but in a more normal way, and the broken up couple can be around each other pretty fast.
Rachel is wearing a gold ring. This episode aired in March 1997, and according to various celebrity gossip sites, Jennifer Aniston and Brad Pitt met in 1998, so I have no idea whose that ring is, or if it's just for decoration (she might've even had a ring in an earlier episode and I haven't noticed)
TOW The Hypnosis Tape
Ahh, it's good to be back to "normal" episodes again
It's mildly interesting that Rachel is the one taking the cigarettes from Chandler: Jennifer Aniston used to smoke, but I'm not sure if she was doing it during this period or if she was trying to quit during this period
Frank Jr is much, much improved in this episode
Debra Jo Rupp plays Alice, Frank Jr's fiancée, and it's honestly kinda gross seeing them make out. Also, this is 1997, one year before That '70s Show. I thought she developed her laugh in that show, but she does the same laugh here.
TOW The Tiny T-Shirt
A lot of fans hate Pete. I don't mind him... until a later episode.
The whole scene where Ross takes his old t-shirt back is fun. In particular I really like how Rachel pronounces T-shirt.
"Ah, sliced bread was a pretty Lady MacBeth"
Chandler is reading a MacWorld magazine, issue March 1997
Rachel getting her T-shirt back is one of my favourite moments across the whole show
TOW The Dollhouse
I find something about Joanne's look odd. If you have seen Family Guy, the episode where Quagmire's dad get's a sex change, it reminds of how that person looked. Sorry, I have no other way of describing it.
TOW A Chick And A Duck
After Monica says her thing about Easy Monica's Bakery, there is a long, long silence for the audience to laugh it out. Long.
Ross' "woohoo" sound is very similar to the sound from Sims 1 when you drink coffee
It's so obvious that R & R aren't completely over. When I first watched this episode I knew they were getting back sooner or later.
TOW The Screamer
When Chandler leaves Monica's apartment with the birds he mentions Nintendo in the uncut DVD versions. I kinda miss that part in the Blu-rays.
I think the screamer is genuinely funny, one of the best minor characters of the show
TOW Ross' Thing
The car and the fire just looks so painfully fake
Guru Saj is the youth minister in That 70s Show. His acting here is pretty much identical.
Pete wanting to become the ultimate fighting master is so disappointing. First time I watched it I couldn't believe they were serious.
TOW The Ultimate Fighting Champion
Chandlers sample joke in the beginning is kinda fun, but is very dependent on the English language and whoever did the Swedish subtitles completely missed the point
The intro with the two famous actors were thrown in at the very last second (they happened to be around just then) and as such their story/jokes aren't really interesting at all
The Chinese guy training Pete is the waiter of the Chinese Restaurant in Seinfeld. Funny guy.
The Ultimate Fighting Champion story with Pete is just so weak. It's just ridiculous and not suitable at all.
Chandlers little work dilemma is all that is funny or enjoyable with this episode, and even that isn't that fun. Probably the worst episode yet.
TO At The Beach
I really like Monica's laugh when it's kinda louder than usual (she also did it in an episode in Season 1 but I forgot to comment on it and now I can't remember which episode)
I don't mind Bonnie but it's so sad when Rachel is excited about Ross flirting with her and then Bonnie walks in
This episode might be better to watch in DVD quality, because the whole ocean background is a green screen or something and it's very obvious on the Blu-rays
Bonnie's bald head is also very obviously fake on the Blu-rays
I guess I should mention that Chandler & Monica are toying about the idea of being together in this episode, but honestly it's so insignificant and what happens with them later is not because of what happens here.
Overall thoughts on Season 3
Season 3 feels like it's just two episodes (the two where they break up), but there are quite a few episodes actually.
The episodes leading up to the break up are mostly just annoying to watch because of all the jealousy.
After the break up the show is kinda nice because it kind of restarts. It focuses more on comedy instead, which is what I like about sitcoms: the comedy and braindead-ness.
But at the same time, those episodes aren't really that memorable and the Pete and Monica storyline is just a waste of everyone's time.
Overall, far from my favorite season.
However, now the show is gonna really start rolling. First time I watched it, I just had the show up on my second monitor while playing Diablo 3 on my main. But somewhere around here I decided to do nothing else but watch this show for a week, 16 hours per day, while lying in bed and being super focused on it.
Season 4
TOW The Jellyfish
Only Season to start with a recap
This is one of many Ross' relationships Rachel will ruin
The storyline with Phoebe and her real mom is kind of weak. They didn't fully utilize it.
I really don't like the way Ross stares when they're in bed
I don't really understand why Rachel pronounces "fell asleep" so weird. Is it a reference to something?
I wish all breakup scenes were like this. They're easy to watch, funny but you also understand the couple have issues with each other
Honestly first time I saw this I was a bit disappointed though, I really wanted them to get back together for real
Also this is the first part of the Friends story that is just a bit too unrealistic. I mean in real life in someone cheated on you, you wouldn't even wanna see them. But here they're friends and even get cozy (I don't think they had slept with each other yet?) with each other again.
Also now Rachel is really broken up with Ross. You get the feeling in S3 that she isn't really.
TOW The Cat
Ross and Rachel separated is fun
Cat storyline is weird. Really weird. Even weird for being Phoebe. It's due to Marta Kauffman's mother dying though.
TOW The Cuffs
Rachel says Mark gave her a key to Joanna's office, yet she just takes it from the top/back of the drawer, i.e. Mark didn't give the key to her specifically, he just hid it and told Rachel where
Chandler is looking at the lingerie pages. I'm surprised no one laughed.
I find the encyclopedia salesman fascinating. I guess people used to buy these before Wikipedia.
TOW The Ballroom Dancing
I have some weird memory about this episode... I think it was the first episode I watched on my iPad while cooking.
The opening scene with Rachel ending up crying is hilarious
Monica saying that Rachel always cries and then Rachel starts crying is also hilarious
TOW Joeys New Girlfriend
Monica's hair make her look 50
Chandler chasing Kathy seems like a reference to something
TOW The Dirty Girl
Good episode. Nothing to comment on.
TOW Chandler Crosses The Line
Ross' keyboard songs are weird as hell
When Joey is mad at Chandler, he shuts off the TV and the AV equipment. He only hits the power button on one of the three receivers/stereos or whatever, but after a while the remaining two also shut off. Also, I feel like they should have their power buttons illuminated, so I'm guessing someone just pulled the plug on all three.
This episode tries to create drama between Joey and Chandler but honestly who cares when it's not Rachel and Ross
TOW Chandler In A Box
Rachel Green(e?) and Ross Geller has the same initials, which the show now finally acknowledges (it's a perfect couple thing)
Sidenote regarding Green or Greene: No one knows what's right. Both are used everywhere. It's mostly Green though and that's what I prefer too.
TOW They're Going To Party
The man in the hiring committee is of course Mr Lippman from Seinfeld
Mr Alessandro has also been in Seinfeld, the guy who washes Elaine's hair
Joanna dying is really damn unexpected, especially for a sitcom
TOW The Girl From Poughkeepsie
The guy who gives Joey his tips have also been in Seinfeld
Honestly a kind of mediocre episode. Probably the worst one in Season 4.
TOW Phoebe's Uterus
Lisa Kudrow (Phoebe) got pregnant IRL so they needed to think of a Phoebe getting pregnant story. Fast. (It's not too ridiculous though)
First mention of Donald Trump in this show (I thought it was weird the first time I watched this show in early 2016, but now that he is, at the time of writing, president-elect, it's even more weird)
Rhonda is really fun
Monica explaining and "demonstrating" the erogenous zones is very awkward. I found it funny the first time but now I find it kind of disturbing.
Rachel saying "sometimes that helps" and then looking into the camera/audience doesn't help either
I never noticed Chandler looking at Rachel's toes after she yells out "TOES!", that is a hilarious little touch
Kathy coming in to thank Monica is funny though
TOW The Embryos
Usually the titles of episodes describe the main plot of the episode and you can easily remember what the episode is about, and technically that is true here too, but I think something like "TOW The Contest" would be a better name. The thing that is memorable in this episode is the contest. Maybe they didn't wanna confuse it with Seinfeld's The Contest?
This is another episode that is frequently mentioned on Reddit and such as being the very best episode. I would probably say this is the episode I see the most favourites for. Do I agree? No. It is a great episode, probably top 3 in my mind, but not number one.
The brand of the tape is not Scotch. I tried googling for what Scotch tape packaging looked like in the 90s but I couldn't find one that looks similar to the one Ross holds up.
Rachel is hella excited in this episode. I mean everyone is but she is extra jumpy.
After the lady has asked Phoebe if she is ready, it looks like she wants to leave the room again, while Phoebe gets into position
TOW Rachel's Crush
I love Rachel's phone message to Monica. How it makes it seem like she is talking to Monica, and then it turns out it was her answering machine is funny.
Joey's first "How you doin?" I believe
First episode that has a high quality BKC logo at the end of the Blu-ray. I've written a whole blog post about this though so I won't go into much detail here. (see: https://lambdan.se/blog/2016/05/17/the-bright-kauffman-crane-logo)
Tate Donovan, Joshua, had actually been dating Jennifer Aniston, and they had just broken up around the time of this episode (and the coming ones): https://www.youtube.com/watch?v=gpFKoZ4fasg
TOW Joey's Dirty Day
I really hate strip club scenes in sitcoms (Two And A Half Men has them too), it's like the show turns into a slightly NSFW-show for a moment
TOW All The Rugby
Janice's "Oh My God" is getting kinda tired now
The whole rugby part is just so awkward, especially with all the British accents
TOW The Fake Party
"Now that's a thinker..."
This episode is really damn funny, like the funniest episode so far, until Rachel has her little drama
TOW The Free Porn
The concept of the guys watching porn 24/7 is kinda gross
I wonder if Toblerone sponsored this episode
TOW Rachel's New Dress
Ross kiss-Hello's Ben and Carol, but not Susan. It's funny.
"Hey how'd you do that?"
Joshua's dad is Matthew Perry's (Chandler's) dad. The way he acts is even very similar.
TOW All The Haste
Nothing to comment on really. Rachel walking out of her room when she hears Ross & Emily's wedding announcement is kind of sad.
TOW All The Wedding Dresses
I didn't mind Joshua, but I also didn't like him, so I'm overall glad we don't have to see him again. He was just a minor disturbance.
TOW The Invitations
This is the first recap episode, meaning 90% of it are just clips from older episodes usually about a certain storyline (in this case about Ross and Rachel). They are very annoying when you can watch any episode at any time, but they made sense when this show aired on TV.
Because of that, I tend to skip through the recap parts and only watch the "original" parts. There are however some minor differences in the recaps. In this episode for example, we see Ross yelling "We were on a break", while in the real episode that's from we saw Monica cleaning while hearing Ross in the other room. Odd.
Rachel's last name is spelled Greene on the card and letter
TOW The Worst Best Man Ever
Zima is a beer alternative
Phoebe being offensive is real fun... "Here come the waterworks"
TOW Ross' Wedding
I say "check" when packing things too
The DVD version is very different from the Blu-ray version. First of the intro is made entirely of scenes from London (actually shows quite a few spoilers) and the whole episode is a single double-length episode. And of course the DVD has a lot of scenes that any other version doesn't.
"Don't you point your pants at me!"
Joey watches Cheers. Seeing how Cheers had gone off air a few years before this is probably like a tribute of some kind (and the theme song also makes Joey homesick)
Chandlers toast is great
I screamed the first time I heard Ross flub at the altar.
Overall Thoughts on Season 4
Season 4 is great overall. It's probably one of the best seasons. It has a lot of memorable moments and episodes.
The goal of it is for Ross and Rachel to move on, although both fails miserably. It also sets up the next couple of seasons main storyline: Chandler and Monica.
It's also the season that ends with the craziest cliffhanger. The cliffhangers are very stupid in this show, as they are all cleared up within 30 seconds of the next season starting, but I would die if I would have to have waited 3 months for the next episode.
Season 5
TO After Ross Says Rachel
Of course the cliffhanger was cleared up in just a few seconds. I was kinda hoping Rachel would go up to the altar though.
I really wish R & R would've gone together on the trip. It would've happened if Ross wasn't so damn dumb for going back to get his jacket or trying to chase down Emily
TOW All The Kissing
I don't like the Monica deciding over Rachel's love life idea
Joey trying to kick in the door is great
I don't and never understood the scene where Rachel tells Ross that she still loves him. I don't understand why she bursts into laughter. And she knew before that he was married so I just don't get it. You'd think this would be a big drama scene but it's not, it's just weird.
The One Hundredth (TOW Phoebe Gives Birth)
Frank Jr's shirt is truly awful
Frank Jr says Alice's mom said Alice is on her way. Isn't Alice like 50? So isn't her mom really old then?
The original line in the script was Phoebe saying "I don't see three kids coming out of your vagina", but the network didn't want them to use the word vagina, so they started shooting and the writers were trying to come up with a substitute. Matt Le Blanc suggested "dick ditch", and Lisa Kudrow got dared to say it in front of the audience, which she did and it's viewable in the blooper reel. It's really funny. You can see it and an interview about it here: https://youtu.be/XLszZqj7-2U
Phoebes alone time with the babies is sweet. It's kind of emotional but still Phoebe-fun here and there. It's not uncomfortable to watch.
Rachel asks if it hurts and Phoebe replies something along the lines of "yeah you're not gonna be able to take it", it's like she knows Rachel is giving birth next
As far as birth giving episodes in sitcoms go, this is not a bad one. No excessive screaming is a huge plus. Also the episode ends on a kind of sweet note, and doesn't make me angry (we'll get to it, Season 8/9)
TOW Phoebe Hates PBS
Nice to see Phoebe not pregnant again
The whole Ross asking Carol and Susan to move to London part is only on the extended DVD version. Related to this scene, I really hate how Ben yells "daddy"
Emily turns into a narcissistic bitch in this episode
TOW The Kips
Rachel having a nosebleed is kinda gross, but good also so she doesn't seem like a perfect human being
Donald Trump is mentioned again. I think for the last time (2 times in total.)
Rachel says that she and Phoebe needs to start a group, that they're the "best ones". I agree, Rachel and Phoebe are the best. Joey is far from one of the best though.
Nope, Donald Trump is mentioned again. So 3 times in total.
Joey figuring out Chandler and Monica is great. One of the few times he's smart.
TOW The Yeti
"Joey said "hence""
Rachel does a spin when she's scared by the yeti. Keep this in mind for TOW The Truth About London in Season 7.
Emily looks weird. Like she's dead. Like a Goldeneye 64 model. At least on the DVD version.
When Phoebe's at the magazine stand there's three Nintendo Power issues in the back, from left to right: December 1996, October 1997, February 1998. Odd selection considering this episode was likely filmed in October 1998.
TOW Ross Moves In
"See you ladle!"
Where in Joey and Chandlers apartment does Ross sleep? I guess that yellow couch in the corner? (this couch actually plays a big role throughout the rest of the show)
TOW The Thanksgiving Flashbacks
Phoebes war memories are weird
Monica pretending to get turned on by the Macaroni and Cheese box is bizarre
Some polls deem this one of the best episodes. I disagree.
TOW Ross' Sandwich
First time I watched this show, this was the episode I was watching when a friend showed up, and I had to take an 1-2 hour break from watching the show to socialize with the friend. One of the few breaks (except sleep, food, dog walking) I took while watching the show for my first time.
Joey's facial expression after pushing down Ross is creepy
"He takes naked pictures of us then he eats chicken and then he looks at them!"
"This is not good for my rage" shakes pills
"Now I'm gonna get back to my bucket"
This is a really funny episode. The whole scene where Joey has to explain the picture is just fantastic. Reminds me of a certain upcoming episode...
TOW The Inappropriate Sister
Joey and Chandler now has a N64 in their entertainment center
TOW All The Resolutions
At work a co-worker asked me if I had seen Friends (we were talking about my Seinfeld mug) and this was the episode he remembered very well, the part about Ross' pants
Chandler having to keep quiet is great
TOW Chandlers Work Laugh
Monica's work laugh is very disturbing
TOW Joey's Bag
The unisex part is kinda funny. I never realized uni might be short for you and I (although that doesn't make sense for something like the universe)
I always thought the Phoebe and Ursula scenes looked really good, even though it's the same actor. I have no idea how they do it.
Frank Buffay is the same actor as Russell Dalrymple in Seinfeld. He looks and acts very differently here though (he's much better in Seinfeld, the Sleepy Girl part is really painful to watch)
TOW Everybody Finds Out
This is my favorite episode, here's why:

It's funny
It has some romance (with Chandler revealing she loves Monica etc)
Phoebe is really funny

The episode just gives you a great idea about what the show is about. Sorry I don't really have many reasons why it's my favorite
TOW The Girl Who Hits Joey
Friends Wiki has it listed as trivia that Rachel really got hurt from when Ross hugs Joey and Rachel in the beginning. I've looked at this hug over and over and I disagree, I don't think she got genuinely really hurt. I think it's just a nice touch in her acting. I feel like if she would've gotten really hurt they would've cut the scene and look after her. I doubt Aniston even mentioned it after the scene.
Once again we hear a really old corny song and that reminds me of how old this show is (Funkso Brother)
Ross joke at the end where he tells Rachel they should get married is indeed very inappropriate
TOW The Cop
I like the scene with Ross and Rachel at the couch store. I think that kind of relationship is their most fun one. Kinda mad at each other but not really and more just joking with each other.
Joey and Rachel being together being a joke is all it should be... 🙄
A lot of people like Ross saying "Pivot!" but I really hate it. It's not funny or anything. Just annoying and excessive.
"Nice ;)"
"I promise I won't take you out to just donuts"
TOW Rachel's Inadvertent Kiss
Rachel's interviewer/future boss has been on the show earlier I think
Steve Ireland, the guy who plays the Ralph Lauren "sleezeball", has been in both Seinfeld and That 70s Show. Before I watched Friends I associated him with Seinfeld, but now I realize I associate him this role.
TOW Rachel Smokes
It's nice to see Carol with Ross, without Susan. I wish she had a bigger part in more episodes. She's OK.
Rachel mentions that her dad is a doctor and strongly disrecommends smoking. Of course you remember that he smoked in TOW The Two Parties.
Jennifer Aniston was trying to stop smoking when this episode was made, I've read multiple places
"You look happy and sick. You smoked!" - I actually think this is true
Joey is starting to become incredibly stupid. This is OK right now but it gets much much worse in the very last seasons.
TOW Ross Can't Flirt
"...I like 8 right year old boys"
Phoebe apologizing to Monica, and then Rachel doing the same is a fantastic scene
I actually didn't know that thing about gas smell. Very fascinating. Not good for flirting though.
TOW The Ride Along
The slow motion scene where Joey covers Ross is hilarious, the music is perfect
The DVD features a scene where Rachel tries to re-produce Emily's phone message (British accent etc). Sounds fun on paper but really boring in actuality.
TOW The Ball
I think I would've been really spooked by the cat but I've seen Kat Von D's Sphinx kat (¿ʇı ʇəƃ) a thousand times so I'm used to the type
Rachel's scratches look pretty damn good. Even on Blu-ray where you'd expect that you can easily they're fake. (In distant shots you can barely even see the scratches on the DVD version)
The Phoebe interrogation is so obvious that it's gonna happen but it's really funny. I really like the small things she does before it: biting nails & looking away, stroking hair etc.
Monica's purple t-shirt is really weird. It looks like it has an inverted bow tie.
Weird to see Phoebe wake up. Not often we see her do that. What happens afterwards is also sad, I always feel really bad for her.
Chandlers dropping montage is really bizarre. It's like a Family Guy cutaway.
TOW Joey's Big Break
Rachel's reactions to the gangs I/eye teases aren't great...
When Rachel knocks over the cereal box you can clearly see that the position of, well almost everything and everyone, changes. You don't think about it though unless you know about it (sorry I ruined it for you.)
Rachel's behavior at the eye doctors is not great either. Her acting is a bit off. It just doesn't feel real.
The car green screen is awful. Especially on the Blu-ray version: the city background is very low quality. Probably looks ok on the DVDs.
Joeys little movie thing is not important at all. It's only to set up the next episode so we can end the season with a cliffhanger.
The end scene where the gang swarms Rachel to apply eye drops is easily one of the best scenes across the whole show
The One In Vegas
Apparently Jennifer Aniston did the entire naked sequence herself, which is fine, but how? Did she operate the cameras herself too? I don't really understand how you shoot a multi camera scene yourself. And even then, someone trimmed and edited the camera footage so I don't really understand how she could've done the scene herself. (Obviously I understand she didn't want the crowd or other cast around her, but she probably did need a camera person)
It is funny how Ross leans towards the door post when Rachel answers the door
Chandler is unusually drama queeny
Did Ross and Rachel get a single bed bedroom? Really?
"I'm doing good baby. How you doin?" - The way she says that is so funny.
Overall, probably my least hated season finale. It's fun, has some slight drama that isn't too uncomfortable, and ends with a reasonable cliffhanger that would get you through the summer of '99.
Overall Thoughts on Season 5
Easily the best season. Pretty much every episode is fantastic and very funny and has little to no drama.
Unfortunately, this is when the show starts going downhill. Everything is gonna get over exaggerated 100x and Joey is gonna get 100x dumber.
Or maybe not and Season 5 is just so damn good (the peak of the axis) and nothing can match it. I think this is more likely.
Season 6
TO After Vegas
I guess I have to mention that everyone has appended "Arquette" to their last names, because Courteney Cox did get married to David Arquette. I don't get why they did it though. Not funny or interesting or anything at all.
Ross is kind of a psychopath for wanting to stay married, but you can kinda understand him but no you can't really.
The way Chandler asks to move in is nice.
Who the hell goes to see a movie in the middle of the day?
The idea of Chandler moving in with Monica is nice, except that Rachel has to move out. I hate that.
TOW Ross Hugs Rachel
Really weird episode title
Even the DVD version starts off recapping the previous episode's end, weird
Phoebe says that Rachel is one of her closest friends. Kinda weird as they've only known each other for around 6 years and they haven't interacted that much. Although to be fair she did say "one of."
I've been meaning to bring this up, but now that Phoebe mentioned it, I would actually name my daughter Phoebe if I had one. I think it's a great name.
That girl with the white blouse is really damn creepy
Season 5 started of with Rachel being confused about loving Ross. Now Ross is confused about loving Rachel.
The episode title makes a little more sense now that I realized they hug twice. But I still think something like "TOW Monica Tells Rachel" would be better. This episode is not mainly about them hugging.
TOW Ross' Denial
My cousin pulled the "pretending to hold breath with nose unblocked" joke on me when I was very little and I bought it. Therefore I get very nostalgic when Joey does it.
"Oh my god, someone killed squareman"
TOW Joey Loses His Insurance
Ross is unusually happy in the opening scene
This is a funny look. Phoebe is incredible this whole little section.
Not sure why Rachel went for an Indian dialect
The crying child actor is a freak
The way Rachel is surprised and how she yells at Ross is great. She should always be that mad when she is mad. Not dramatic.
TOW Joey's Porsche
I was surprised to se Conchata Ferrell outside of Two And A Half Men
"Well that makes sense if you're gay and addicted to heroin"
In a Two And A Half Men episode Alan also makes a big deal out of how Porsche is pronounced
The R & R scene at the end is nice
TO On The Last Night
"YOU'RE NOT PACKED!"
"Or Chandler? Or your mom?" = not funny, at all
Every bad memory I have of the show is when Rachel is not living at Monica's, so now I know they're coming. The bad episodes are coming.
This episode is a bit too dramatic. It might actually be worse than when R & R take a break.
TOW Phoebe Runs
This episode sticks out to me for some reason. The thumbnail on TheTVDB is very colorful and the title is kinda odd, and the plot of the episode is kind of ridiculous. I guess that's why.
Phoebe's run style is ridiculous. It's just so shocking, even though I've seen it before.
"How you doin?" "I'm okay..." "WHAT!?"
TOW Ross' Teeth
Hillary is played by Missi Pyle, who also was in Two And A Half Men. She looks very different there though.
Overall, a pretty bad episode. Rachel's problem at work is kind of fun but not really.
TOW Ross Got High
Now they're playing PlayStation. I don't think we ever saw them play N64 and the N64 is gone from the entertainment center.
It's weird how Ross and Rachel talk about their relationship. Its always "I don't think we should be together right now", it's like they wanna be together, just not right now.
TOW The Routine
Courteney and David must've had fun practicing for this
Not really sure if it's appropriate for Ross to stretch his sisters leg like that
When I see this episode in my Plex library, I don't look forward to watching it (similar to the R & R breakup episodes), but once I watch it it's actually not a bad episode. Not great either, but it's fine.
TOW The Apothecary Table
"It's funny, I saw no phlegm"
TOW The Joke
This the only episode that has a joke... ¿ʇı ʇəƃ
I love the scene where Monica asks Phoebe why she picked Rachel. Probably one of the best scenes with the girls. Rachel's facial expressions are funny too, although before this ridiculous expression that I've screenshotted she sits there preparing for it
TOW Rachel's Sister
Jill is played by Reese Witherspoon, and was apparently meant to be in a few more episodes. But apparently there was some tension between her and Jen so that couldn't happen. This doesn't make any sense to me as they're apparently pretty good friends nowadays.
At the very end, on the extended DVD version, Cheryl Hines of Curb your Enthusiasm makes an appearance. There's a clip of it on YouTube.
TOW Chandler Can't Cry
It's weird that Phoebe cried to Bambi, because as we know from "TOW Old Yeller Dies" her mother (well, mother at the time) stopped movies before sad parts.
Phoebe being a pornstar would make total sense
Chandler crying to R & R's little problem is very much like me
TO That Could've Been
This is a single double-length episode on DVD. This causes some pretty big differences compared to the Blu-ray: On DVD the intro is the "alternative reality" version. On Blu-ray the first half has the normal intro, and then the 2nd part has the "alternative reality" intro.
Monica shouldn't be fat. She dropped the weight when she and Rachel still went to school (we saw it in one of the thanksgiving episodes earlier)
This episode (both parts) is just really boring overall. I don't think I laughed once.
TOW Unagi
Ross opens the episode with "Remember when I had a monkey? What was I thinking?". I am very happy about this because it means the writers realized how dumb that whole idea was.
The Unagi thing is kinda fun
"Damn it Carl!"
TOW Ross Dates A Student
Okay now I'm really dreading watching future episodes, as Rachel moves in with Joey this episode. It's pretty fun in the beginning though.
The blooper reel for this season contains a ton of takes of Phoebe trying to say "at Monica's you can eat cookies over the sink"
TOW Joey's Fridge
Nothing to comment on. Good episode.
TOW Mac and Cheese
Another clip show episode. There's 3 minutes new material, 3 minutes clip show, 3 minutes new material, etc. Very annoying!
The new material isn't very important either. This is a very skippable episode.
TOW Ross meets Elizabeth's dad
After Chandler says "wait a minute, you're not Elizabeth's dad?" the camera cuts to Rachel and Phoebe laughing to really show how good Chandler got him. I hate these moments.
Sprito? Is that Sprite for TV?
You do feel bad for Ross when he's trying to get Elizabeth's dad to like him
Overall a really good episode
TOW Paul's The Man
This is a very funny episode.
Chandler's reaction when Monica comes home and is gonna make him dinner, is extremely funny
In Paul's bedroom, Elizabeth's fly changes between unzipped and zipped. Really damn odd.
I sorta hate Paul, but when I think about it, I basically hate all of Rachel's boyfriends when it's not Ross. If you stop thinking about this you will find the show much more funny. It's just easy to get emotionally invested.
TOW The Ring
I get Paulie (The Sopranos) vibes from Joey in this episode
Odd to see Rachel in bed. We don't do that often. Only other instance I can think of is in "TOW The Jellyfish"
TOW The Proposal
Kenny Bania is the charity guy
Weird to have Monica in the center of attention. She has been kind of invisible the past couple of episodes.
Phoebe and Rachel switches so Rachel's marriage backup is Ross and Phoebe's is Joey. So on some level Rachel still wants Ross.
The end of this episode (and season) is waaaaaaaay too emotional. It's hard to watch. It's short though. Just rip the bandaid.
Overall Thoughts on Season 6
Okay maybe this is the last good season, maybe it's now the show starts going down the hill. Honestly there's something really weird about this rewatch. I enjoy the show a lot more than I previously ever did.
This was very close to being the last season as the actors wanted more money and negotiations took a very long time. I honestly kinda wish it would've been the last season (although I would want it to end differently, obviously)
Season 7 - Lets spend 24 episodes planning a wedding
TOW Monica's Thunder
Chandler becomes drastically thinner all of a sudden. Monica's hair is darker. Rachel's hair is shorter. A lot of things happened in a few months real time that causes continuity issues when the episode takes place the same night as the previous episode.
https://youtu.be/wmXxRrotI-8
I was hoping R & R would be getting back together, to make everyone happy.
At the very end when Chandler takes Phoebes guitar, her "oh oh" sounds very out of character
TOW Rachel's Book
Rachel's book is awfully wrinkled, like it has been wet
Joey revealing to Rachel that he knows about the book is fun. One of my favorite scenes.
One problem I have with season 7 is that it has a bit too much lovey-dovey stuff. Preliminary I wanna say it's perhaps the worst season.
TOW Phoebe's Cookies
The sailing green screen is terrible. Especially on Blu-ray because all the flaws are super visible.
TOW Rachel's Assistant
Not a fan of Tag. He looks way to bratty.
"Nancy Thompson is getting fired!"
Joey's "I'm back baby" doesn't make sense. It's like he is telling it to the live audience.
TOW The Engagement Picture
The only thing I've discussed with my sister in law, about this show, is this episode because they are also planning a wedding and she mentioned wedding photos and how much trouble Chandler has taking them
TOW The Nap Partners
I still haven't seen Die Hard. I've been meaning to do it way before watching this show.
Rachel again mentions potentially marrying Ross 🙄
"It's pretty clear"
Phoebe's hair is ridiculous
"That's ridiculous Rachel. We were all babies once." (I really liked this quote, because the first time I heard it I tweeted it.)
TOW Ross' Library Book
Rachel cut her hair. I don't like it.
After Ross says that there's a book by Wendy Bagina, producer Wendy Knoller is credited
Chandler almost looks and acts normal again
TOW Chandler Doesn't Like Dogs
Chandler looks and acts weird again. Was this maybe recorded before the previous episode?
"Moo point" actually makes a lot of sense
"So please don't fire me for doing this" - what a corny line
TOW All The Candy
Tag has a flatscreen monitor (albeit not very flat by today's standards). Kinda cool considering it's 2000
The lady asking for candy is Alan's receptionist for a while in Two And A Half Men
TOW The Holiday Armadillo
I kinda dislike how Ross spins Ben around. Seems like Ben is a bit too old for that.
On the other hand Ben can't tell that it's Ross in a costume so maybe he isn't that old
Monica's acting during the Santa and Holiday Armadillo is kind of awkward. She's just quiet in the background making facial expressions.
The whole Holiday Armadillo costume is just silly. All the costumes are silly really. It's like the show is targeted at kindergarteners all of a sudden.
TOW All The Cheesecakes
"The Ross... is that back!?"
I don't like the cheesecake storyline. It's just boring.
I still don't like David
Weird to see Phoebe genuinely sad
Overall, pretty bad episode
TOW They're Up All Night
This episode, for some reason, is the one I remember most vividly from the first time I watched the show.
This episode does do a good job of showing how skilled the show is at evenly distributing screen time for each character
When Phoebe puts stuff over her ears we also hear less of the fire alarm. Haven't noticed that before.
Overall, this is a very mediocre episode. It's pretty good because of Phoebe's story but it's also pretty bad because of all the others' stories.
TOW Rosita Dies
Weird to see Jason Alexander outside Seinfeld. His iMac is cool.
"Oh no. This is devastating!"
TOW They All Turn Thirty
"Haul ass!"
Rachel reading Chandler's birthday card is hysterical
Tag is gone (well, we see him once again in Season 8). Yippie.
TOW Joey's New Brain
In the Extended DVD version (and possibly other versions), in certain scenes/camera angles, there is a black squiggly line in the bottom left, likely a hair or tear in the film reel or in the projector. This is the most visible around the 13:00 mark as Rachel is leaving the apartment. In the 16:9/Blu-Ray version it seems to be fixed as far as I can tell.
"You know what the Swedish people are famous for? Sitting down and being quiet" - kinda true
There is a blooper reel of Ross playing the bagpipes which is hilarious. Even in the show you can see that Jen loses it when Phoebe starts imitating
The episode doesn't have a credits scene. Instead it's fountain dancing. Very odd.
The extended DVD version has a storyline where Phoebe takes a medicine for headache. This is entirely absent in the other versions.
A serious dramatic scene between Chandler and Joey is just wrong
Apparently, Jen did not know the Ross character was gonna fall down the stairs, and so it's her "natural" reaction the way she reacts to his fall. Now this is probably the scene I have watched the most, over and over, probably 50+ times, to determine if this is true or not, and I am still not sure:

I feel like if she thought it was real, she would've yelled out something like "DAVID!" (Ross actor is David Schwimmer) and run up to him much faster instead of spinning around, twice, and then she would probably look at the camera/crew.
Also, I feel like she would've noticed the crew is making a doll or carrying it around
The only thing I can see that would suggest it is her real reaction, is her scream: it sounds really damn terrifying
TOW The Cheap Wedding Dress
Rachel wants Diet Coke again. She also wanted it in "TOW Paul's The Man"
"I used to have a friend called Joey"
TOW Joey's Award
Vince Vieluf, playing one of Ross' students, was also in Rat Race
Theres a TiVo in Joey's entertainment center, or something TiVo related atleast
TOW Ross and Monica's Cousin
Cassie is played by Denise Richards, who was in Two And A Half Men multiple times (probably because of being married to Charlie Sheen, at least at the time)
Ross internal thinking is hilarious
There's something about hiding people behind Phoebe's furniture that this show can't get enough off
Phoebe freezing when Cassie shakes her hair is also hilarious
Overall, probably the best episode of season 7? It's very funny (apart from Monica's surprise bridal shower, that's just cringey)
TOW Rachel's Big Kiss
Friends Wiki has a very ridiculous Goof entry: > "Rachel says the tuxedos she borrows were all taylor-made to fit the celebrities who wore them. Therefore, a tuxedo made for Pierce Brosnan, who's 6 feet and 2 inches, should be too big for Matthew Perry, who's only 6 feet. Similarly, a tux made for Diane Keaton (5 feet and 6½ inches) should be way too small for Chandler, not a perfect fit."
A memorable episode, but not funny.
TOW The Vows
Another recap episode. This is probably one of the worst ones, as it has very little new stuff. Probably 95% of it is from older episodes.
TOW Chandler's Dad
When the scene cuts to Rachel and Ross getting pulled over, it's clearly not them who is sitting in the car
TOW Chandler and Monica's wedding
Phoebe's (Lisa Kudrow's) laugh is one of the best in the world. I highly recommend watching the bloopers or some Late Night Show with Kudrow to hear more of it.
The Blu-ray version is split into two parts. The first part ends with a "Next on Friends...", and the second part starts with a much much shorter intro (it starts on the "I'll be there for you")
Rachel being pregnant is a great cliffhanger. First time you see her little tears it's really damn striking.
Overall a decent episode. Not much comedy though.
Overall Thoughts on Season 7
This season sucks. Plain and simple. And you can tell from my lack of notes. I would like to note "overall this episode is really mediocre" on every episode, but that would get repeating.
It might honestly be possible to skip the entire season. Jumping from the last episode of Season 6 (where they get engaged), to first episode of Season 8 (where they've just gotten married) is not that absurd.
There are two fun episodes: Rachel's book & Ross and Monica's cousin. The rest are just like no fun at all. It's like the show turns into 100% romance and just plans Chandler and Monica's wedding. It's just not that, there are also a bunch of other bad things about this season: - Tag - Chandlers very varying appearance - The Holiday Armadillo - TOW The Vows
Good that it's over though. Not that good though because you know the show is gonna keep on getting worse as we're getting closer and closer to the end and the writers have to come up with stupid and even more ridiculous plot lines to keep R & R separated, which is the endgame of the show. Season 8, at least most of it, is a little upswing though.
Season 8 - Rachel's season
TO After I Do
Once again, Rachel shaking her head at a Phoebe is a very powerful little gesture that hits you hard
"Oh that's a risky little game"
First episode to air after 9/11, therefore it's dedicated to the "people of New York"
TOW The Red Sweater
Phoebe and Joey should be married. The proposal in this episode is great.
Chandlers fake photos of the random couple are also great
When Rachel enters Central Perk and Tag says hi, there's some music and scene changes, just to increase the suspense. I guess the suspense was kind of killing me the first time I watched the show but now it's just annoying.
Weird how Phoebe turns around after Tag leaves
Joey proposing to Rachel, AS A JOKE, is fun
Audience goes crazy when Ross finds his sweater (because we realize Rachel is having his baby)
TOW Rachel Tells Ross
Chandler is back to normal
I believe there was originally some jokes about the airports security but because of 9/11 this was changed
Joey pulling out his stack of condoms is kinda fun
TOW The Videotape
This is a bad episode humor wise, but it's still a good episode, if that makes any sense
TOW Rachel's Date
The Muriel reveal is great
Ross' Sunday dream of him, wife and child is sweet. Totally understand his worrying, and it's sad.
Math problem: Rachel bought candy bars for $15, and she has 20 of them. What is the price of 1 candy bar, assuming they all have the same price?
Rachel turning around in the door after seeing Ross with Mona really sucks. Probably one of the saddest scenes. But then again in the next episode everything is back to normal.
TOW The Halloween Party
"Yes I did, I'm Chandler"
Joey is really funny in this episode
TOW The Stain
Weird that Monica is happy about Chandler having cleaned the apartment. Last time it happened she was very upset.
Monica's acting is not very good. It's just overblown and kinda ridiculous. It's been so for a couple of episodes now.
TOW The Stripper
Rachel says she got TiVo. Maybe it's hers in Joey's entertainment centre that we saw in TOW Joey's Award.
Rachel telling her father that Ross thinks she is damaged good is really funny
The bachelor party is really damn funny. Joey asking if he's nervous etc.
The actor who plays the stripper has also played a stripper on other sitcoms, such as That 70s Show and Two And A Half Men (although she's not a stripper there, anymore, but she still offers lap dances). Apparently she was also a stripper in The Office (I haven't seen that show myself though.)
I don't understand why Phoebe wants to watch a fight/argument. I hate watching or hearing fights.
TOW The Rumor
This episode is bizarre and I kind of hate it:

Brad Pitt had no reason be included really. But because this is Rachel's season and she is played by Jennifer Aniston and she and Brad Pitt was a thing at the time he has to be here too.
Crowd goes in-👏👏👏-sane when he enters
When the show aired some critics said Brad Pitt was one of the worst guest actors ever on the show, while some disagreed
He was also nominated for an Emmy Guest Actor thing in a comedy series

Seriously who invites their random old classmate to thanksgiving? Especially when this friend was never mentioned before.
Monica tries to create some kind of message at the end, that you shouldn't care about the past yada yada. A lot of episodes actually try to do this.
Overall I really hate this episode. It has some funny parts, and the second half is much better, but it's just a bizarre episode that was cobbled together in 10 minutes to get Brad Pitt in it. Maybe it's him I hate? I don't know. His name kind of sounds like he is a dick though.
TOW Monica's Boots
I don't like Rachel's new hair (she had it in the previous episode too but I had enough bad things to say about that episode)
That is the actual Trudie Styler, Stings actual wife
TOW Ross Step Forward
There are multiple titles for this episode too. I went with the one that was listed in my DVD box.
The way Phoebe delivers "He's here to have sex with you" is perfect
TOW Joey Dates Rachel
Oh god, we're almost crossing into that terrible thing now. This is kind of fun though, at first.
Rachel went to bed without brushing her teeth. Maybe she put on her bedclothes and then got up again to brush?
Phoebes rage montage is fun
Camera zooming into Joey as he says "terrified" pretty much sums up how downhill this show is gonna go soon
Thinking about it, this is probably where Joey becomes the worst character. In love with Rachel and stupider and one can possibly be. Up to this episode he was actually pretty fun - better than Monica.
TOW Chandler Takes A Bath
Ross and Rachel debating names in the coffee house is entertaining. And I agree with all of their reasonings.
Pretty good episode. Joey's little crush ruins parts of it, but it's mostly fine.
TOW The Secret Closet
Ross' face on the baby is actually funny. They did a similar thing in That 70s Show and that was not even close to funny.
At least the show does one rational thing and makes Ross and Rachel live together... at least temporarily
TOW The Birthing Video
Phoebe says to Joey: "I hate seeing you like this"... Good that the show realizes Joey shouldn't act like this
"Worst porn ever, worst porn ever!"
This is funny:
The end scene with Ross and Joey is kind of dramatic. Completely unnecessary to end with a cliffhanger though.
TOW Joey Tells Rachel
The first half of this episode is so depressing, with Joey and Ross. They try to make it funny with them drinking the melon stuff and having different reactions but it's not enough. The scene seems sad.
The joke at the very end: "yeah that was a good one" is like the only laughable part
Honestly this is probably the least sitcomy and most sad episode of them all. It's just not fun at all.
TOW The Tea Leaves
Rachel's work problem is so ridiculous, it's funny
Rachel's silence after Joey mentions maternity leave is way too long
Pretty fun episode. Or maybe it's pretty mediocre but the previous episode was so damn sad that this feels like really fun in contrast.
TO In Massapequa
Parker is one of the best guest characters, if not the best
There are a ridiculous amount of times where you can see Jack Geller's stand in, who looks nothing like the real actor. Especially on the 16:9 Blu-Ray versions this is extra noticeable. It's really ridiculous because like every time Jack is not in the center of attention it's his stand in instead. It's actually impressive because they can swap him out mid sentence.
Ross describing how he proposed to Rachel is sweet
Monica's speech is miserable, but hilarious to us
The funniest line across the whole show: "My god, what a fantastically well lit hallway!"
TOW Joey's Interview
Uh oh, another clip show, focused on Joey. I wonder if it's because he's been so depressed the last couple of episodes that they wanna show what he is supposed to be like.
Phoebe spelling out her name is great, until the last E, then she goes too out of line
TOW The Baby Shower
The game the guys play is stupid, but fun
TOW The Cooking Class
Here we all want Ross and Rachel to be together, and then themselves make fun of it
Katie is played by Rena Sofer. I see her as the "sitcom guest", as she has guest starred in other sitcoms, that I've seen: Seinfeld and Two And A Half Men.
Ross clarifying what he meant by getting his whip is hysterical
The "will-they-won't-they" is at its peak. Just as Ross says, he won't be dating anyone, they live together, they're having a baby, Rachel freezing when she thinks about it.... let's drag it out for 2 more seasons.
TOW Rachel is Late
When Rachel comes to Central Perk, and ironically asks if she is ruining their precious coffee time (DVD version only), the Friends Wiki has it listed as trivia that the girl Rachel yells at looks like Emily Waltham, the British girl Ross married earlier in the show. But I disagree, that is not her. Not even close.
We get a clear sighting of the RESERVED sign on the table in Central Perk finally
Phoebes heartbeat is great
I actually submitted the visible camera in the 16:9 version to MovieMistakes: http://www.moviemistakes.com/picture222958 - I don't take credit for it though, I'm pretty sure it was listed under Friends Wiki Trivia before and that's where I got it from
Rachel's ketchup bottle metaphor is really disturbing
Ross facial expression when he says "I am good" is golden
TOW Rachel Has A Baby
Bear with me. This is the episode I dread watching the most. I don't have good memories about it. I hate a lot of things about it
The "sick son of a bitch" couple is a hoot
The Asian pregnant lady (in green dress) has hella white makeup. She looks like a ghost.
Joey's butt slap on Phoebe was apparently not in script (all improvised by Matt LeBlanc) and I can believe that: she does look a bit violated. (It's much better to look at it in motion, it's around 14:57 in the Blu-ray version)
Why did they have to bring in Janice? Actually it's pretty good, the second half would otherwise be hella serious otherwise.
"You know that feeling when you're trying to blow a Saint Bernard out your ass?"
"Look at you making up crap for me"
A sweaty and screaming Jennifer Aniston is gross. Actually all sweaty women giving births in sitcoms are gross.
When the baby is born some calm music starts playing and the laugh track basically dies, along with all jokes. And Rachel says the girl should be called Baby Geller-Green (not Baby Green). And R & R kisses. That is a lot of not-sitcom-material all of a sudden.
Green is spelled Greene again. However since this is on the baby's semi official birth certificate, maybe it really is Greene?
Joey accidentally proposing to Rachel is what I hate. His look on his face is ridiculous. Although this time watching it, I can kinda see why it happened:

Rachel wants someone to help her with the baby
She thinks it will be Ross, but he forgot to get her a soda as he was looking at a nurse
Joey had earlier confessed to Rachel that he loved her
These reasons are fine. It's mostly Joey's expression and the accidental ness of it that I hate. And the fact that Ross went out to get flowers and was about to probably do it.
Rachel says "OK", which is more of a yes than a no, and it's kind of a acceptance of it. Although Joey didn't even ask, he just stood there.

This is Jennifer Aniston's favorite episode. Hmm, is it because she won an Emmy for it? Is it because it's focus is her character? Is it because the entire season was focused on her character? Personally I think this is far from her best episode. Something like TOW Rachel Smokes or TOW The Two Parties is much better.
Overall thoughts on Season 8
I'm glad Rachel's season is over. I wanna focus on some other characters.
The season is better, entertainment wise, than 7, by quite a bit, but it's still far from as good as the earlier seasons.
It's just too dramatic overall. Not much sitcom material.
But the thing about these last couple of seasons (this and the two next ones), is that they screw everything up so much you wanna rush through them as fast as possible to get closure. And thusly it's very addictive.
Season 9
TOW No One Proposes
Phoebe mentions her Gameboy again
Phoebe and Rachel talking about Rachel being engaged is such a tease
Jack talking to Chandler and Monica about sex is hysterical
This episode is pretty funny but mostly it's just a big tease
Anyway, yay, last episode that place entirely on a hospital
TOW Emma Cries
When I rewatched the show for my 3rd time, where I skipped episodes I didn't like, this was the episode I skipped to after TOW Rachel is Late
You probably wanna turn your volume down when watching this episode. The crying is ear piercing.
The punch Ross was gonna throw was hella hard. Even to the face.
There must be a reason why Chandler should be moved to Tulsa. I think it was something about the actor and rehab.
"Have I gone deaf?"
The audience goes crazy every time Ross gets punched. Do people really hate him that much? I cringe every time he gets punched. It just feels wrong.
TOW The Pediatrician
The way Joey finds Mike is smart
I like Mike. He's better than Tag, better than David, and many other guest partners that's been on the show.
The young girl is played by Ashly Holloway which I recognize from Curb Your Enthusiasm, as she plays Susie and Jeff's daughter, Sammi, there!
TOW The Sharks
Intro scene with Phoebe crying and ruining her makeup is funny. Her dress is hideous though.
The shark storyline is ridiculous. I mean I overthink a lot, but Monica's overthinking about Chandlers shark fetish is ridiculous. And they try to be funny about it but it's just so stupid you're cringing the whole time.
"Oh boy, you got mad at that part"
TOW Phoebe's Birthday Dinner
Rachel's makeup is... not great
"You haven't cooked since 1996"
"I feel so used"
TOW The Male Nanny
I think this is the first 30 minute episode
Ugh.... David
All of chandlers jokes are golden
Chandlers email is obviously not a email. hahanotsomuch.com is a real domain though, owned by NBC
TOW Ross' Inappropriate Song
Joey being offended by Chandler quickly rejecting the idea of them being a couple is fun
When watching the tape, and Joey runs to take Chandler down to the floor, the TV is turned off. Also, when Monica comes in you can see she's wearing knee pads.
"Ode to a pubic hair" seems like a good song
Phoebe's dress is weird, she does look like Mike's mom.
TOW Rachel's Other Sister
Oh no it's Christina Applegate. I actually like her and she is really funny in this show. She won an Emmy for it.
"Phoebe" -"Oh that's a funny noise"
The chicken teleports from Monica's hands to her plate during a angle change, at least in the Blu-ray version. Maybe there's some extra footage in between on DVD.
Sadly we never get to see what Chandler is like as a father
Monica almost fainting when the plate breaks is great
TOW Rachel's Phone Number
This episode does not have a Trivia or Goofs section on the Friends Wiki
I don't understand why Mike and Ross doesn't turn on the TV Nevermind: they actually bring that up later - the cable's out.
This is a really fun episode. Except the little phone message drama at the very end. It's not really drama either but it's not comedy. It's just sad.
TOW Christmas In Tulsa
Son of a bitch. Another clip show. This time with Chandler reminiscing over the many christmases celebrated by the gang with him, and his time with Monica.
Monica is ridiculously paranoid
As far as christmas episodes in sitcoms go, this is awful. My favorite is the the episode in Seinfeld with the communist
TOW Rachel Goes Back To Work
Rachel's office door has Greene on it. Seriously I'm starting to believe it's Greene
It's obvious from a mile away that there's gonna be something between Rachel and Gavin
There are a ton of footage of Phoebe as the nurse in the blooper reels
"I don't feel like having sex"
Rachel's dress is really weird. It's like a shirt without shoulders and she has a tie under it.
TOW Phoebe's Rats
Who are all the people at the party? We never see or hear of them otherwise and now all of a sudden Rachel has 1000 friends.
The end scene is kinda heart breaking but you know what? It's a sitcom and I'm gonna stop caring. This is my new life philosophy.
TOW Monica Sings
Kenneth looks too normal to be obscene
Monica singing Delta Dawn is not bad. Her I'm So Excited is bad though. Maybe she knew Delta Dawn from before and that's why they picked that song?
Rachel shouldn't be mad about Ross not giving the message, because during the night she gave out the number she wanted Mike to intercept the calls to avoid Ross from hearing about the guy from the bar
I remember the ending being a lot more dramatic, but it's actually not bad. Both were on the same page. Actually a pretty funny episode.
TOW The Blind Dates
Phoebe's plan laugh is solid
Joey's "I met her at the library. I went in to pee." line took a lot of attempts as he kept changing it up and Lisa Kudrow couldn't stop laughing
The guy Rachel blind dates was in a episode way, way back: he's the high restaurant owner Monica was trying to get a job at
TOW The Mugging
Monica says "they showed it before Jackass". Is she referring to MTV Jackass?
This show was taped on December 13th, same day I am watching it (albeit 14 years later)
Lowell is of course one of the guys from Tenacious D
"Honey, im old!"
Leonard Hayes says something about planting seeds and looks into the camera while doing so. Very weird.
TOW The Boob Job
I noticed this myself and I find it really damn disturbing, because I wonder if my episode ended abruptly (from the Friends Wiki): >The Warner Bros. Television theme, the one that had been used on its logo since September 1994 and August 2003, is played after the opening sequence and before the scene in which Phoebe and Mike have finished watching TV.
Rachel describing what happens to your body when you get pregnant and then crying is funny. However, she looks away into the distance afterwards 🤔
Ross suspecting Phoebe has come to his apartment to make fun of him is also funny
"Aaaaaaanddd Hernia..."
The group hug at Phoebe's apartment is used for many intro scenes to come. However Ross isn't in it.
TOW The Blind Dates
Phoebe's plan laugh is solid
Joey's "I met her at the library. I went in to pee." line took a lot of attempts as he kept changing it up and Lisa Kudrow couldn't stop laughing
The guy Rachel blind dates was in a episode way, way back: he's the owner of a restaurant Monica was trying to get a job at
TOW The Memorial Service
Ross' explanation of the webpage kinda sounds like Facebook.
Ross says Chandler really crossed the line. In other words, this could be TOW Chandler Crosses The Line Part II
When Chandler goes to apologize to Ross there are two circles along the top of the frame... lens flare?
"I'm on my way to buy some Photoshop Software..." sounds like a very stone age thing to say
Due to lack of concentration due to other things happening around me, I ended up watching this episode twice for this rewatch. I didn't mind though.
TOW The Lottery
Ross' and Phoebe's "daddy" thing is fun
Ross has actually been in the lottery for 3 minutes. Almost down to the second if we go by Chandlers "now that you're in"
When Chandler doesn't get the job it suddenly stops being funny and the show tries to spread some message
The whole Emma's first potential word with Rachel and Ross is nice
Phoebe doing her pigeon voice at the end scene is cute
The first time I watched this episode I vividly remember cooking food and watching it on my iPad while doing so, then going out and walking the dog and waving to a certain person along the way. It was very sunny and nice, almost too nice for April. Yeah I remember non important things like that.
TOW Rachel's Dream
OH BOY WE'RE ABOUT TO GET INTO MUDDY WATER NOW
I should've commented on this earlier but one thing I've always wondered is how confusing it must be to shoot a scene, where they're shooting a scene. I feel like they need a really big stage and cables would get mismatched here and there.
Rachel says "I'm not an actress". I feel like that must've felt weird to say. On the other hand, Joey is an actor.
I did get fooled by Rachel and Joey's little rehearsal scene the first time. I was happy it was a dream though. BUT OH BOY...
Rachel's navy blue tshirt is really ugly on her, at least with that hair
Not really sure who won the argument, Phoebe or Monica. I think Phoebe as she had the last say. Monica's things were more "real" though.
Their hand raising apologizing is cute though
Joey and Rachel shouldn't happen. Not even be considered. Damn writers.
TOW The Soap Opera Party
First episode with Charlie. Yuck. Actually she's alright it's just that the show is about to hit the roughest parts, and she is part of it.
Rachel's interactions with Charlie is just so bad and forced. The "Okay, who's this?" and "professor or detective?"
Alex Borstein (Lois Griffin) is the one doing the "Why don't you like me" play thing. It's actually really funny.
Joey kissing Charlie is better than Joey and Rachel booking up, but not by much. Dumbest person hooked up with smartest person is another bad writing decision.
TOW The Fertility Test
Rachel's last name is spelled Greene on the DVD subtitles
Phoebe's Swedish impersonation is pretty great to me, a Swedish person (and yes Stockholm is the capital of Sweden)
Pretty sure the laptop Ross was using to game on is some kind of MacBook, as it looked like it had a censored Apple logo. Also the game ran at 5 fps, tops.
Chandler and Monica not being able to have children naturally is genuinely sad
TOW The Donor
Oh remember Ben? Ross' son? Yeah where has he been the last couple of seasons?
For some reason, Ross accidentally sitting in the professors lap is a scene I've remembered vividly since the first time I watched the show
TO In Barbados
For some reason I feel like this is the last episode, but it's not at all. I guess it's because Season 10 is so messed up.
Sarah really looks like a Sarah
"What's all your furniture pointed at?"
David still looks so out of place. He looks like he is from another century.
The last shot of Monica and Chandler at the cafe is very low quality on the Blu-ray. I'm guessing it's because it fades into the Barbados transition which they didn't have high quality source footage of when doing the HD scan, so they had to use old SD footage.
This is very known, even in mainstream circles, but Rachel got some kind of cut on her arm. And we can see the scar in part 2, where the bandage is removed.
Phoebe repeatedly says "I love you David" in this episode. I love you too Phoebe. ¿ʇı ʇəƃ
Chandler opening an email that "erases Ross' hard drive" instantly is skeptical
The scene where Monica talks to Mike on the phone is not in the Netflix version. As far as I know, it is the only difference between Netflix and Blu-Ray (apart from the BKC logo at the end...). Here's a video of it:
Rachel hangs out with Joey, and Ross hangs out with Charlie. Gee, I wonder what's gonna happen.
"Not to mention coldosaurus"
Phoebe picks the quarter out of her bra
Joey being depressed is 🙄. You already know how much I hated it from when he had a crush on Rachel in season 8.
This episode is a lot better than I remember it being. It's just the very end that is really weird. Ross and Charlie kissing is fine. Joey seeing them is fine. But Joey walking to Rachel's room like he is a zombie and then the music in the background... that is just a really weird part. Seeing them kiss wasn't bad either, they just need to get it out of their systems.
Overall Thoughts on Season 9
This is a really memorable season. For some reason I remember a lot of it. And they're good memories too. Almost every episode I go "oh yeah I remember that episode, that's a good one."
It's just some of the story parts, mainly involving Joey and Rachel, that gets messed up. Remember when Joey was just a funny guy who liked sleeping with women and didn't care about emotions? I miss him. As for Rachel it's just... well the writers have been keeping her and Ross apart (as a couple) for 6 seasons now, they really have to stretch the boundaries of normal life to make it work. So hey, let's make her have a crush on Joey, a guy she has always turned down.
Anyway, season 9 is great. Now we're gonna enter season 10, and just wrap everything up. The actors want $1 million each per episode, so we gotta be fast and do it in 18 episodes.
Season 10 - Wrap it up
TO After Joey And Rachel Kiss
Phoebe mentions porn again. She mentioned it in the previous episode too (while watching them play ping pong).
The problem with these Baby actors is that they look at the cameras and the audience, not the actors
TOW Ross Is Fine
Seriously does the gang have some kind of deal with Central Perk? There is no way in hell having 3 kids roaming around there would be allowed in normal circumstances
Ross is very funny in this episode
Chandler accidentally telling the kid he's adopted is so so awfully funny. Also I recognize the kid from somewhere, not sure where.
I think it's weird Alice is not in this episode
How selfish Rachel is really evident here. When Joey says he's gonna stay, Rachel just says that it's a good idea and she's on her way. Not even offering to stay instead of Joey. Maybe Joey had a work to go to in the morning? Joey could just as well take care of Emma. Rachel could've stayed too.
Damn the kids in this show really don't have it easy. Owen is adopted. The triplets were carried by their fathers sister. Emma was an accident. Ben's parents are separated and his mom is gay, and his dad spends time with him once every 3 years. And Chandler and Monica's babies will be adopted. Sad we won't see how they all turn out.
This is a really damn fun episode and I was almost considering considering it a really good episode for people to demo. The only reason why I won't consider that is because Phoebe's storyline isn't that interesting and doesn't accurately represent her, and Joey and Rachel usually aren't together. It's just Ross and the Bing's that are on fire.
TOW Ross' Tan
I feel like I watched this episode yesterday. But it was around October I last saw it.
Ross getting his tan is so 👏👏👏 stupid. He is so ridiculously dumb that it's not even funny. The manager is great though.
The Joey and Rachel kissing on the couch scene is really awkward. Like even if she is uncomfortable with Joey her slapping him is a really weird reaction.
It took Lisa Kudrow a lot of takes to get through the "I feel like a perfect arse" line
This episode is not very fun, but I like watching it anyway as it ends Joey and Rachel. I actually didn't mind their relationship that much this rewatch though. I just came to the conclusion that they both needed to get it out of their system, and the writers were really grasping for ideas.
TOW The Cake
"I was not ready for this today"
TOW Rachel's Sister Babysits
When Rachel and Amy are in the bedroom Emma does a quick look behind right at the camera and the audience. Afterwards she is really focused on the conversation Amy and Rachel are having though so I guess it evens out.
Phoebe getting engaged to Mike is kind of a cheap thing. The writers are just rushing to tie up Phoebe's story.
TOW Ross' Grant
"He does have a pretty serious Latex fetish" - an actual good joke by a guest
It's weird how Joey and Rachel just casually hang out. A couple of episodes ago they were hopelessly in love.
The Ichiban commercial is actually kinda fun. I think ichiban means number 1? Used to say that to people who were the best at Mario 64 back in 2011.
Yippie. We're rid of Charlie. I think she is the last "major" guest on the show.
The end scene is bizarre. I feel like they spent 5 minutes on it and just took the first attempt.
TOW The Home Study
"Hello. Is this the creepy residence?"
Rachel around the swing set is cute. Shaking and all.
This is a great episode. One of my favorites. I think it also might be a good episode to show to new comers as it gives a pretty good idea about how everyone is like.
I'm also fairly sure this was the episode I started at the morning I was finishing my first watch of the show. I woke up early because I had problems sleeping due to the show, and I just binged the rest of the show from here while in bed. And then I got up and wrote https://lambdan.se/blog/2016/04/23/thoughts-on-friends-1994-tv-show/
TOW The Late Thanksgiving
Very mediocre episode. Maybe one of the most mediocre ones. Nothing funny and nothing sad. It's just blehh.
TOW The Birth Mother
"Your veal chop is $34.95!"
I like Erika. Nothing in particular, but just in general.
Monica is honestly kind of crazy for thinking they will never get a baby if Erika won't give them her's
TOW Chandler Gets Caught
When Ross hypothetically asks Phoebe what she would do if Mike was cheating on her, she tries to be serious but she has a tiny little smile going on, so it's not very convincing
Monica vacuuming a vacuum cleaner is kind of inefficient. She should just wipe it off if she wants to remove the dust from it.
The reveal of the house buying is basically the shows way of saying: this show is ending soon
This episode also contains a clip show, showing footage from the apartment in earlier seasons. I decided to watch it as it reminds me of how much better the show is in earlier seasons.
Joey being overjoyed by a meatball sub is really funny
It's kind of ridiculous how fast the writers are wrapping this up. First Monica and Chandler gets on the adoption list. Boom. The next episode they get the birth mother. Boom. Then the next episode they get the house. Boom. It doesn't make you that excited because you get so used to big things happening to them.
TOW The Stripper Cries
I always skip this episode when re-watching, but I decided to watch it now to make notes.
I always skip it because it doesn't add anything to the story, it's not funny, it's ridiculous and to top it off it's one of those 30 minute episodes. The stripper isn't funny and the flashback scenes aren't funny either... they're all just so ridiculous.
When Ross talks about how he made the fliers I get really happy. He made them on a Macintosh with a little something called Helvetica Bold 24pt.
Well. Glad I wasted 30 minutes on a episode I don't like to make 1 note (albeit a good one.)
TOW Phoebe's Wedding
I disagree with Joey being Phoebe's away-giver. The two of them hang out the least. Joey pretending to be her stepdad is funny though.
Phoebe's outburst at Monica is great
Rachels bed is ridiculously big for that small room
It doesn't make any sense that the ice sculpture was sent to the billing address, as Phoebe doesn't live there. Unless it was billed to Monica as she might've been the one who ordered it. Also no one signed for it, seems like someone should've as it was probably a pretty expensive thing.
Who is Monica talking to with the headset?
Good that Phoebe removed the green robe. I was just about to say it's really ugly.
Phoebe getting married to someone we were introduced to a season ago is not how we expected her story to end. It's so rushed and disappointing.
TOW Joey Speaks French
This episode shows you how dumb they make Joey, for cheap sitcom laughter. He just completely screws up all lines and it sounds funny and the crowd laughs. It's not funny and is just painful to watch.
Rachel's last name is spelled Green in the DVD subtitles. For the past couple of episodes it has been Greene.
This episode has a lot of will-they-won't-they teases. Mostly for the better. Don't worry though, only 4 episodes to go.
TOW Princess Consuela
Both Bing and Geller are terrible names
Jewhunks.com is available to buy. Weird NBC didn't buy that domain as they did buy the domain Chandler used for his email in an earlier episode.
The show wants us to think Rachel's story will end up with her moving to Paris, which is actually very believable and is why it works so well
TOW Estelle Dies
Phoebe's Estelle impersonation is fantastic
Pretty sure the new house is the same set as Elizabeth's fathers cabin
Jane Lynch is the house shower. She's the psychologist in Two And A Half Men
From the Friends wiki: > This episode was originally titled "The One Where Jetlag Wins". One of the stories was about Ross and Rachel going to Paris and having a romantic time. The story was scrapped, and replaced with the one where Ross tries to get Rachel her old job back."
Wow that is a very different story. - This episode ends Joey's story, and it sucks. Ross got tenure. Monica and Chandler is getting a baby. Phoebe got married. Joey's agent died.
TOW Rachel's Going Away Party
I consider this part of the final episode. I think it would be very hard to watch this episode and not watch the final episode immediately after.
This episode just gets plain sad once the "Party" starts.
Courtney Cox is pregnant, and they try to hide it by making her wear loose clothing. It's even more noticeable in the next episode.
Monica and Rachel crying, barely understandable, is weird. It's fun but also sad.
It's weird that we don't hear Joey's goodbye. They've been roomies and almost had a relationship going on, they would probably have a lot to say.
Ross yelling at Rachel for not saying goodbye to him is one of my favorite scenes too. It has some humor and some deepness.
Erika having a contraction mid sentence and then continuing like normal is great
It's really sad how they dumbed down Joey so much. He's basically a side character at this point.
Ross and Rachel's final scene of this episode is not that... great. It's just cliche. And for being a scene where both are even crying, it's not as emotional, to me anyway, as when they broke up and Ross said the things about her heart. Oh well, the best is yet to come.
The Last One
This is the only episode that is available extended on DVD in the PAL regions, as far as I know
Chandlers wondering of which is worse, going through labor or getting kicked in the nuts, is actually interesting
God I forgot we have a 4th birth scene in this show
"Oh yeah, these are faces of two people in the know!"
Erica says "you're gonna make great parents". Interesting line, does she mean she thinks they will be good parents, or that they will raise the babies to be great parents?
Phoebe's Jack Bing thing is funny
ROSS, SERIOUSLY. JUST 👏👏👏 SAY IT. (This is what I am screaming internally, and it's so annoying, but that's what makes this a thrilling season finale)
Monica's scream when she steps on the egg roll is hella loud. I don't think we've ever heard her scream that loud.
I remember I was reaaaallly bummed out when I saw this episode the first time and Ross was at the wrong airport. Like reaaaallly bummed out. Now that I know what happens it doesn't affect me that much (just like the other things so far doesn't)
The guy that sits next to Rachel on the plane is the jewelry shop owner in That 70s Show
Joey and Chandler really doesn't have to hug or shake hands. Best friends don't need to.
Boy they really drag out the R & R uniting until the very last moment
Even as emotional the recorded message might be, Ross screaming out is funny
"I got off the plane", man that is a line that has stuck. And god the audience goes insane.
Ross' "Unless we were on a break" doesn't make any sense, it's so random. It's like the show is just making fun of itself.
Monica's clothing, to hide the actors pregnancy, sticks out because Monica usually don't wear that kind of clothing
Jennifer Aniston, or well, the entire cast, was very tear eyed during the final scene, which makes sense, but she was having trouble trying to hide it and so she shoves her face into Ross multiple times and kind of smiles and look into the camera sometimes. If I was a director who was very strict I would probably reshoot it, but I'm glad they kept it - adds authenticity. On the other hand I guess Rachel could be crying in happiness, she is back together with Ross. It's hard to screenshot an example of this, so just look at the episode and you'll see it. You can't miss it. Although to be fair, I was almost as tear-eyed as she was the first time I watched this.
Overall this is probably one of the better, if not the best series finales I've seen. It certainly better than Seinfeld (although I have to admit I did enjoy that episode a lot the last time i watched it). It feels like you get your reward. You've been through 9 seasons (they were together for roughly 1 season) of will-they-won't-they, the mediocrity of seasons 7-8, the accidental proposal and just a bunch of other teases and this is your reward.
Overall thoughts on Season 10
It feels rushed. Apart from the first couple of episodes, all of them have a big major thing happening that just seals the deal for some big aspect of each character. It's a bit overwhelming. Why couldn't they spread it out a bit more? Surely they'd know Season 10 would be the last one for a while.
The humor also gets dumber. Joey's stupidness is ridiculous. Ross' tan. Joey speaking French. They're just bad entertainment. I'm not saying the whole show is a gold mine of humor, but think about the free porn episode for example. That is a lot funnier than Joey speaking French.
Oh and don't get me started on the stripper Cries episode. That is just abysmal.
Monica and chandlers plot I don't really have any complaints about. They couldn't naturally get children, so they adopted. They are surprised by having twins. Monica is gonna make a great mother and Chandler is gonna work on it. Great.
Ross and Rachel end up together, and they have a child already. Great. (And if you believe what Joey says in his spin off show, Joey, they also got married.)
But the real disappointing stories are Phoebe and Joey.
Phoebe gets married to a guy we met a season ago, and that's kind of cheap and rushed. She should've had a much less traditional ending. But I can't really think of any examples of such endings, so I guess I can't really blame the writers.
And Joey has his agent die. Seriously, what the hell? All the other Friends get a good ending and Joey doesn't get one. He should've gotten a major part in a movie or something that would've make him rich. I guess that is why they made the spin off show, he really deserved it. (I have not seen Joey yet, and I don't intend to. I've heard nothing but bad things about it, and I don't wanna ruin him for me.)
Overall Thoughts on the Show
This is the part I've been dreading the most to write. Seriously.
I like to compare the show to smoking cigarettes. There's nothing good about it on paper. You're ashamed that you like it so much. And once you get into it, you are hooked. You're an addict. You can't stop.
And I do believe this. There is nothing good about the show on paper. And even when I watch it I sometimes wonder why the hell I'm watching this. I shouldn't like it.
But I do, which you should be able to clearly tell since I obsess over it so damn much.
I want to say Seinfeld is my favorite TV show, I really do. But we have to look at this objectively:
I signed up for Trakt.tv in 2013. Since then I have watched 980 episodes of Seinfeld that have been tracked. I watched my first episode of Friends, ever, in April of 2016 and since then I have gotten 931 plays. Now to be fair, Trakt is probably missing around 300 Seinfeld watches because I did watch that show before I got Trakt. There are some more disturbing facts you can extrapolate from this, like how I spent 16 days out of 2016 watching this show.
I have written numerous blog posts about Friends. I think I have 0 about Seinfeld.
The first time I watched Friends, I binged it in less than a week. Seinfeld took me months to get through the first time. I was completely hooked on Friends and couldn't think of anything else the first time.
I have bought the Friends Blu-ray set, and I have imported all 10 seasons on DVD from the states, to get the extended versions. This was not cheap.
I have OCR scanned all the subtitles for the Blu-rays and converted them to plain-text .SRT files, and corrected any OCR errors along the way, for all 236 episodes. For Seinfeld I have re-timed one subtitle source to match another video source, but that is way easier to do than correcting OCR errors etc, and Seinfeld has only 180 episodes
I went through 3 episodes, at frame accuracy, to re-extend them
I wrote this giant thing you are reading right now
So I have to say, objectively, Friends is my favorite TV Show of all time. As much as I would prefer to say Seinfeld is, I can't. There's not enough evidence.
Misc
These are notes that I wanted to make, but I couldn't figure out a natural place to put them.
I recommend watching season finales and season premieres in the same session so you don't have to wonder about abysmal cliffhangers.

Later episodes, around seasons 9-10 has 30 minute episodes here and there. Therefore, not a great show to watch before bed if you have a strict schedule like me where you try to watch 3 episodes for roughly 1 hour, before attempting sleep. Also the show can play with your emotions so that's another downside to watching it before sleep.

The show is very addictive if you watch more than 3 episodes in a row. Seriously take breaks and you will care a lot less. I noticed this when I was really tired one night and was in the middle of Season 9.

The show likes to spread messages, and I heard about this on one of the DVD Commentary Tracks:

Rachel managing to be a single mother with a career
Ross being really smart but doesn't know condoms aren't 100% effective
Chandler and Monica being a happy married couple that can't get children naturally
Phoebe having a terrible childhood but still ends up good
Joey being "dumb" but still happens to be one of the best friends anyone could have

There is no Season 5 blooper reel. There are however some bloopers from Season 5 in the blooper reel for Season 4.

The only episode that's available extended on DVDs that aren't Region 1, is the last one, as far as I know
DVD versions have AC3 5.0 sound @ 448 kbps. Blu-Rays have AC3 5.1 @ 640 kbps.
All episodes on the Region 1 DVDs are interlaced/telecined. The interlaced/telecined episodes run at 29.970 (which in post turns into 23.976 fps using 3:2 pulldown)
The cover photo I have in Plex is weird. I don't think they ever drink milkshakes:
I was really uncomfortable with it the first time I saw it. Like really. But it grew on me and I love it now. I rarely skip it.
Blu-ray versions have chapter markers for each episode, in particular one of the markers is after the intro which makes it really easy to skip the intro. DVD version has no chapter markers, and since the intro isn't 30 seconds long, skipping it with 1 button press is basically impossible.
One decent solution to skipping the intro on the DVD versions is to skip 30 seconds as soon as Courteney Cox's name appears. Downside is that you will get very tired of seeing Jennifer Aniston.
The intro has different transitions. All blu-ray episodes cuts to black and goes silence, and then the scene transition fades in along with music. On most DVD episodes, both the music and intro crossfade into the scene transition and it's music.
The intro is sometimes shorter. Especially on the Broadcast versions toward the end they just have 1 verse. Most DVD episodes have the full length but sometimes they short it down too, and I don't really understand why as these DVD versions are the extended/uncut versions.
First time I watched the show, I had known about Jennifer Aniston already, so I thought the show really wanted to promote her, and that's why they put her in first. But I later realized that the cast is in alphabetical order, based on their last names, and this show is what made Aniston famous. Their order is kind of in order of popularity though, but that's just a coincidence.
The logo doesn't have the yellow dot completely filled out. If you do a Google Image search for the Friends logo, you will see that all of them fill the dot out, making all of them invalid. This screenshot below is from an actual episode of the Blu-ray version (which are the broadcast versions.)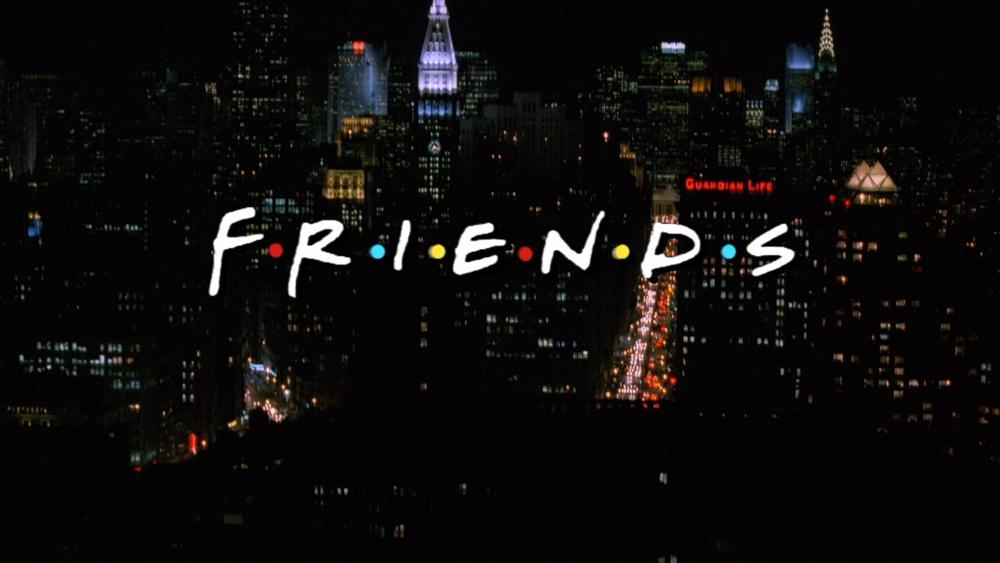 The Outro - BKC logo varies in quality. See previous blog post on the subject: The Bright, Kauffman, Crane Logo - DVD versions don't always have a BKC or WB logo at the end, and I figured out why: the episodes that end a disc, have the logos. So for example S04E01-E05 doesn't have a logo, but S04E06 does. Season 4 has 6 episodes per disc. - The DVDs with BKC logo has a long (5 seconds) black screen after the ending scene before those appear.
Technical Info About This Post
I wrote most, if not all, notes down in Apple Notes using my iPhone 7. There were a few episodes I watched on my iPad, and so I wrote down the notes using the iPad then. Once or twice I also watched an episode on my computer and then I wrote down the note using the iCloud web interface.
I watched both the Blu-ray and DVD versions, sourced from my own physical collection. You can read here about how I rip my physical disks: How I Rip My DVDs & Blu-rays
Up until Season 4, Episode 20 I only watched the Blu-ray versions but then I started watching both versions, roughly 50-50. If I saw that the DVD version was significantly longer I watched that version, and if they were about the same I watched the Blu-ray version.
I watched the episodes usually on my TV, using a Raspberry Pi 2 running OpenPHT. I think in Season 4 I used the new Plex Pass exclusive Kodi add on, but then I went back to PHT.
I took screenshots using the Plex app on my iPhone. Since Plex syncs playback time, I just paused the episode on my TV, then opened the Plex app on my phone and resumed playback and there I was, at the place I wanted to take the screenshot. Then I just added the screenshot into the note. (Because of this, the screenshots won't be full 1080p (apart from a couple of them that I took on my computer), as the iPhone 7 has a 1334x750 screen)
Because I knew it would be fun, I made a stats page for my blog. In the footer below, you can find a link to view the stats for this post. Or if you are reading this in a RSS reader, you can click here: Stats For This Post
(I went through the longest essay I wrote for school, which was 7300 words. Not even close to the 22000 words this thing has.)
---
Version History
19 Feb 2020: Added Ashly Holloway to TOW The Pediatrician
27 Jan 2020: Added name tag to TOW The Truth About London so I could link to it directly from another post
20 Jul 2019: Added Sprito to TOW Ross Meets Elisabeths Dad
12 Jul 2018: Added video to TO In Barbados, about the cut scene from Netflix
29 May 2018: Added subtitle oddity to TOW Two Parts
30 Jan 2018: Removed the cold nipple remark from TOW Ross' Tan because people might be super sensitive nowadays

29 May 2018: I've read that it was popular for a while to have fake cold nipples, so this might've been intentional afterall?
Ok, no: https://www.cosmopolitan.com/uk/entertainment/a12012041/jennifer-aniston-friends-rachel-nipples/

28 Sep 2017: Added Joeys dislocated shoulder information to TOW The Jam
24 Sep 2017: Added damaged goods to TOW The Stripper
20 Sep 2017: Added the black squiggly line to TOW Joey's New Brain
18 Sep 2017: Added the note about Cheryl Hines to TOW Rachel's Sister. Added the note about Chandler's reaction in TOW Paul's The Man.
24 Jun 2017: Added the thing about AV Receivers to TOW Chandler Crosses The Line
6 Apr 2017: Refined Overall thoughts on Season 1
17 Mar 2017: Added the girls scene in TOW The Joke
24 Feb 2017: Added Rachel's red eye to TOW The Bullies
10 Feb 2017: Added yellow dot information to the Misc section
21 Dec 2016: Published