No More Ultrawide
Sun 13 Jan 2019, 00:01
Oh boy, time to go back and critique myself: Going Ultrawide.
Not even a year ago, I ordered a Ultrawide monitor and brought up some arguments for why I thought it was a good idea.
After that monitor, I also got a Acer X34P, which at the time was one of the most expensive monitors you could buy. Why did I end up getting a X34P almost immediately? Well, to quote my post from above:
I play very little games. Almost none, atleast not on PC, so high refresh rates and G-Sync was not a requirement.
Yeah that was a lie.
Basically, I am here to tell you that all of that was money down the drain and I am now back on two individual 24" monitors.
I went from this: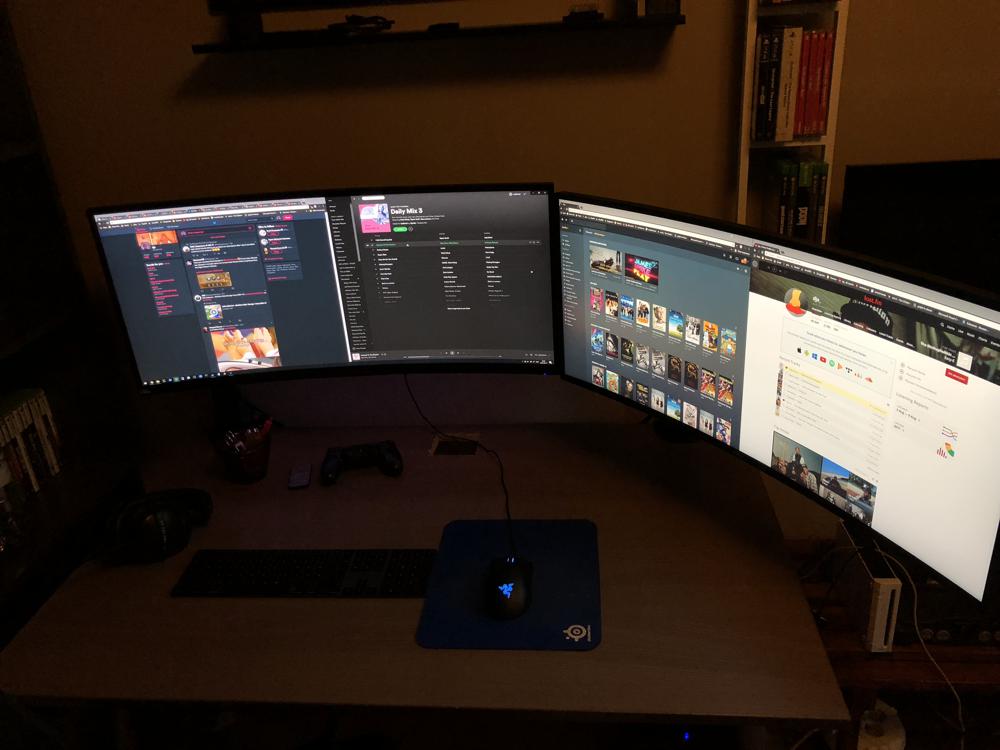 August 2018
To this: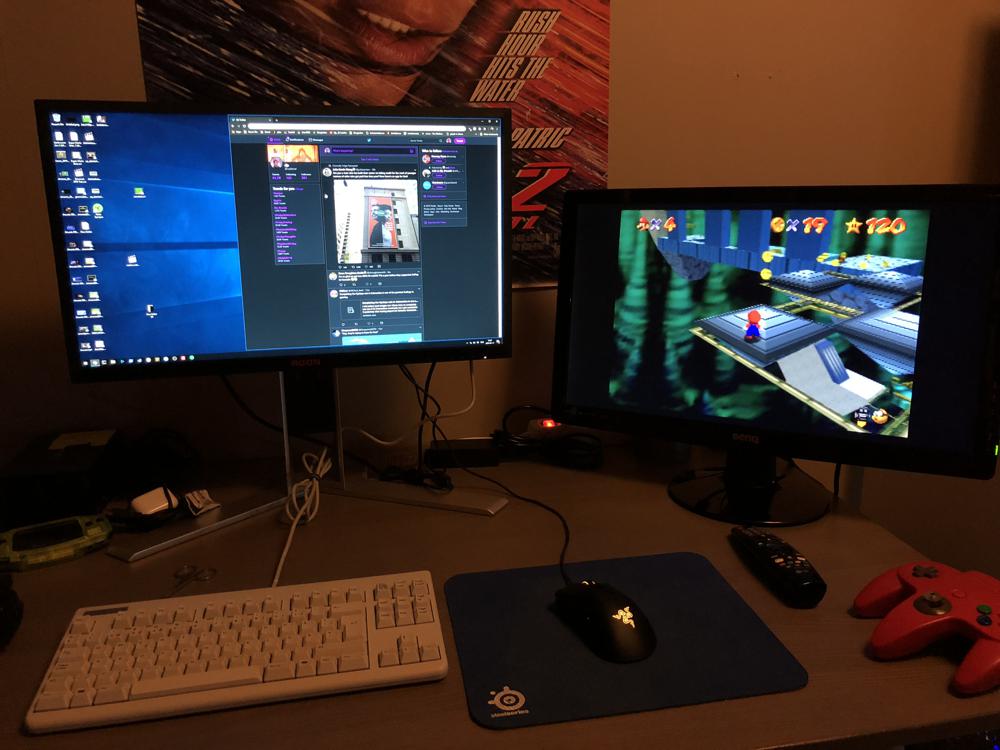 January 2019
So why did this happen?
I generally tend to change my preferences and opinions
The Acer X34P had some pretty rough backlight bleed and IPS glow:
Having two ultrawides takes up way too much room and looks ridiculous

I need two monitors:

When I play PC games, I like having CPU Usage or YouTube or Temps or anything up on the other screen
When I speedrun or play OoT Randomizer I play it on my second monitor while I have the timer/item tracker on the other screen

Not all games support Ultrawide

Most games, this just gives you black bars on the side which is fine
But some games, will force 16:9 into the 21:9 frame and look stretched, which is very ugly

I got someone to buy my X34P

I still have the U3417W lying around
Now, I don't want to scare you away from Ultrawide monitors. They are very neat in some cases:
I could easily fit all the windows I wanted on one ultrawide monitor for desktop use
If you can live with just 1 monitor, it looks clean
Games look cool with the wider view
21:9 movies can be viewed with no black bars
The /r/ultrawidemasterrace community is very nice
But that's pretty much it. To be completely honest with you, I think 16:9 is the best aspect ratio for monitors and I think it will be for the foreseeable future.
What monitors did I get now?
The one I had to buy is a AOC Agon AG241QX. Controversially, especially reading my Going Ultrawide post above, it is a TN panel, but it's not bad. It's way better than the Dell S2716DG. The angles are still horrible obviously, but just sit somewhat straight and face it right on and it looks good.
Other than that it's 24", 2560x1440, 144 Hz and Freesync. I was a bit worried about 2560x1440 over 24" but I don't find it too small. It's actually kinda nice, it gives you a slight retina effect because the pixels are alot smaller compared to the standard 1920x1080 over 24".
144 Hz is the most important part for gaming, or well, >120 Hz is (my X34P was 120 Hz and I could tell a difference between 100 and 120 Hz, but I cannot tell a difference between 120 and 144 Hz). Adaptive Sync isn't as important aslong as you get over 100 fps or so it seems to me.
But speaking of Adaptive Sync, it does have Freesync! And Nvidia just announced at CES 2019 that it will be adding support for Vesa Adaptive Sync, which should mean Freesync in general. Not all monitors are supported, but hopefully this one is!
(UPDATE: This monitor is actually one of the 12 "officially supported" ones, so yes, G-Sync/Freesync works out of the box perfectly on it!)
The other monitor is one I got for free. It's a Benq GL2440 from 2012 or so. It's pretty crap, but my requirements weren't high and I got it for free. It does support the OSSC at 4x mode with the N64 though, which was surprising to me.
---
So, that's how things are for now. Hopefully I can live with this until OLED monitors are widely available. My OLED TV has ruined all other monitors for me.
But I wouldn't be surprised if I got some other monitor next month. But for now, I'm very happy with this.
Oh and yeah, that's a Speed 2 poster on my wall. I knew you would wonder.