Essential Things to Do after Clean Windows Install
Sat 03 Jun 2017, 20:50
I finally reinstalled Windows today after I've been meaning to do it for months. I went with Windows 7 for fun. I have nothing against Windows 10, really, but I just wanted 7 for fun. A few hours later I installed Windows 10 instead.
Anyway, I decided to write down all the things I need to do to get a barely functioning (for me) install of Windows, inspired by Casey Liss.
---
Before wiping C:
Backup the entirety of C:\Users\youruser\
Check for save files in %appdata% cough Dark Souls 3 cough Lego Star Wars cough Minecraft cough and back them up
Copy Windows ISO to USB using Rufus
Copy drivers and preferably a Ninite installer (see below) to the USB
Shut down PC
Unplug ethernet and other peripherals that aren't necessary during installation
Power on PC, and boot from USB
Installation of Windows
Nothing to point out here. If the drive is over 500 GB, I recommend partitioning it to have ~200 GB for the OS, and the rest for storage.
Post-Installation
Drivers
(Preferably these will already be downloaded onto a USB or other HDD)
Install motherboard drivers if needed (on Windows 7):
Install graphics card drivers after internet is connected (so it can install .NET Framework and other requirements)

If Nvidia: uncheck Nvidia Geforce Experience

Reboot
Monitors
Enable 144 Hz on main monitor
Set other monitor position to be in the middle: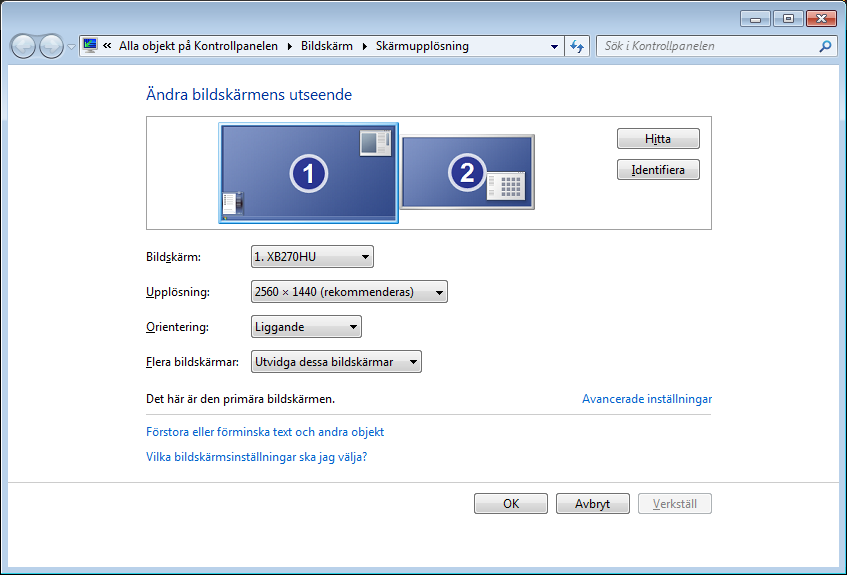 Having the second screen (1080p) in the middle makes the mouse pointer move almost straight across from my 1440p monitor
For Windows 10: Disable Tracking
Download and run DWT
Check all boxes except the ones that warn you and apply
Activate
Depends on your situation, but Windows should be activated before moving on
Installing software
Browse to Ninite and make an installer with (preferably this installer has been done before and stored on USB or other HDD so you don't need to browse with IE):

Chrome
Essentials
qBittorrent
7-Zip
WinRAR
VLC
Spotify
Dropbox
Python (2.7)
Filezilla
Notepad++
Classic Start (if Windows >7)
LibreOffice
SumatraPDF
Steam
Everything (if on Windows 10, you need to use a beta version in order to add network drives)

Reboot
Map Network Drives
Map M: to Media1 (Plex storage)
Map N: to Media2 (Plex storage)
Map O: to Media3 (Plex storage)
Map X: to Dump (NAS)
Map Y: to Home (NAS)
Set up Dropbox and 1Password
Set up Dropbox and wait for 1Password folder in Apps folder to sync
Install 1Password 4 (at time of writing, version 6 is horrible and doesn't work without an 1Password Account)
Set up Google accounts in Chrome
Go to YouTube, and log in using first account
Go to Gmail, and add the other account
Go to YouTube, and change back to the first account
Add bookmark titled "Gmail" and point it to https://mail.google.com/mail/u/1/#inbox
While we're in Gmail, copy the 1Password license key and put it in 1Password
Set up WhatPulse
(If you know your WhatPulse password without needing 1Password, I would do this as soon as you get network drivers working, for accuracy's sake)
Install WhatPulse, cancel the WinPcap install to avoid network monitoring)
Log in
Disable "Open window at startup"
iCloud Bookmarks
Install iCloud Control Panel
Reboot
Sign in to Apple account
Uncheck iCloud Drive and Photos, but set up Chrome bookmarks
Set up other software
Google Chrome: - Install uBlock Origin - Install 1Password Addon - Visit an English website and set "Never translate from English"
Spotify: - Log in - Enable scrobbling to Last.fm - Disable Right Sidebar/Activity Feed
Steam: - Log in - Add game libraries that are present on other HDDs - Make sure Interface Language is English - Install CS:GO and GTA V if they weren't on the other HDD (but pause their downloads for now)
Everything: - Disable "Run as administrator" under settings - Under Index > Folders, add network drives - Under Keyboard, enable "New Window" shortcut to Alt+Space (to fake Spotlight on macOS)
qBitorrent: - Drag left sidebar to the left as far as possible to hide it - Right click column headers, and disable the hashtag (#) - Open Settings - Downloads: - Change default save folder to X:/Dump - Enable "Append .!qB extension to incomplete files" - BitTorrent: - Seed torrents until their ratio reaches 0.00 and then Pause Them
Filezilla: - Add connection for lambdan.se
Capture Card (PEXHDCAP60L) and AmarecTV
Open up Windows Audio Mixer

Go to Recording Tab
Right click Line-In and click Properties
In Volume/Levels tab, set volume to 6
In Listen tab, enable "Listen to this device"

Install PEXHDCAP60L Driver, version 1.1.0.142.5
Install x264vfw codec
Reboot
Extract amarectv310.zip
Install live_setup300
Change region settings in Windows to English/UK to prevent errors when opening AmarecTV.exe
Configure Amarec

Disable hotkeys (under Hotkey tab)
Enable live output under Graph 3 (Live)

Framerate 60 fps
Resize 1920x1080
Output Line 1
Apply

Configure Recording Tab

Video Compressor: Other Codec

Hit Update Codec List
Select x264vfw and configure it:

Preset Ultrafast
Zero Latency: checked
Rate Control: "Single pass - ratefactor-based (CRF)"
Ratefactor between 13 and 17, depends on your mood
In Extra command line box add --keyint 1

Apply

Pick capture card in Device List, and hit Device setting

Set up the capture card settings page to look like this, apart from the Color Range, set that to your taste:

Set up presets accordingly:
Install and configure more software
Follow installation instructions here to download and install the tools: https://ryanchristensen.net/how-to-rip-and-transcode-blurays/
Also download Mediainfo CLI and copy mediainfo.exe to the Ruby bin folder
Also download youtube-dl and copy youtube-dl.exe to the Ruby bin folder
When trying gem install video_transcoding it is very likely a SSL error will occur, do this to fix:

Download GlobalSignRootCA.pem
Open up cmd and do gem which rubygems, and navigate to that folder
Go into ssl_certs folder and paste GlobalSignRootCA.pem in there
Now gem install video_transcoding should work
Set up cygwin/babun
Download babun
Ensure these packages/tools are installed:

screen
vim
ssh
wget
curl
nano
ssh-copy-id

Generate ssh key using ssh-keygen -t rsa and copy it to server using ssh-copy-id user@server
Download vim configuration from https://github.com/lambdan/config and copy it to ~
Install configuration files from https://github.com/lambdan/config/tree/master/babun
Set up OBS for streaming
Download and install OBS
Configure it with your Twitch streaming key
Configure recording path
Leave the rest of the settings to when you're gonna actually stream
Restore save files
From backup you made of your user folder earlier restore all the save files you want
Final Things
Pin/remove things from the taskbar to have it in this order (left to right):

Chrome
Explorer
Connect to RDP
Babun/Cygwin
Snipping Tool
Spotify
Steam
HWMonitor
MakeMKV
qBittorrent

Always show qBittorrent in traybar next to clock
---
That should be pretty much it for the essentials. After this, I will add whatever is needed whenver it is needed, things such as Origin, Uplay, Battle.net, Skype, Discord, TeamViewer, etc.