Why I Copied 16 TB of Data This Weekend
Sun 08 Jan 2017, 21:05
Here's what happened: I didn't wanna think about my Synology anymore. Up until now the Synology box contained both Media and a bunch of photos of family. I didn't wanna think about the users photos and such any more. I want that to handle itself.
Before This Weekend
Prior to this weekend, my setup looked like this: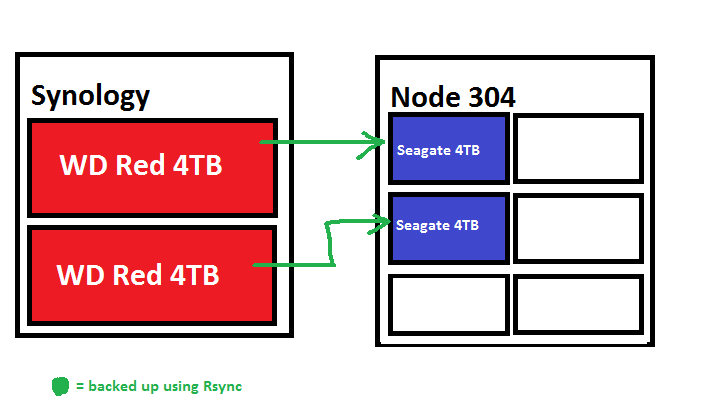 This was fine, but it wasn't good for the future. What happens when the disks in the Synology fill up? Am I gonna start putting Media on WD Red drives inside my Node 304 1 and have Media files on both my Synology and my Node 304? Yeah, that could work, but it would get messy.
So here's what I changed it to, and what I am currently running: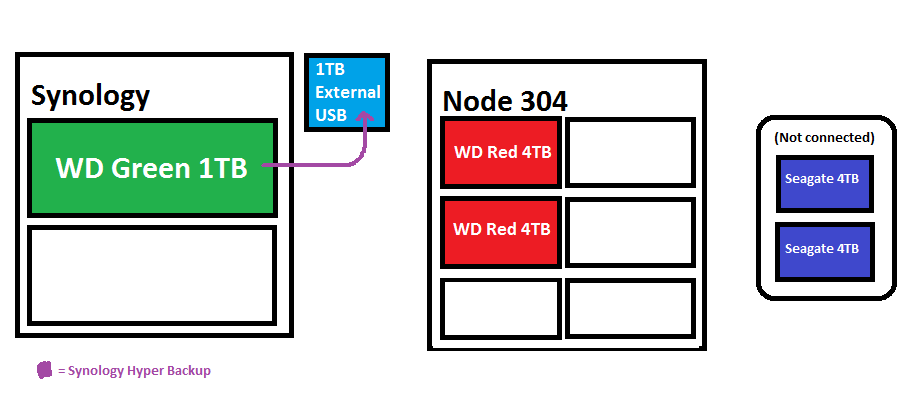 This has a couple of issues:
The Seagate 4 TB drives aren't being used (well, in a way they are, since they have a backup of the WD Red drives from Jan 7th)
WD Reds in Node 304 aren't being backed up regularly
Synology has 1 unused bay
Next Week
Here's what I'm hoping it will look like next week, when all the parts I need have arrived:

This is pretty good and works pretty good for a while. If I add a disk to the Node 304, I can add another, same size, to the Crappy Backup computer and just backup there. The Robocopy would be triggered manually, on my command, maybe once a week. New TV Shows and such usually come out on a weekly basis.
The downside of this is that this crappy PC Backup-target is kind of crappy. It's loud and big. And runs Windows. While I kind of enjoy using Windows on my Node 304 box (the Plex server), it feels bad. There's some bad stigma about running Windows on a server that I cannot shake.
You might be wondering why I don't just put all the 4 TB drives in the one Node 304 and just backup between them internally? I would love to do this, it would be faster and easier and less messy, but, what if the PSU decides to send a huge surge to all the drives? Then both my "live drives" and the backups are dead. This is why I want the backups to be external. Either USB drives or another computer. I don't want 1 PSU to ruin my whole life.
Ideally I'd also have an outside backup, like at another house or something like Backblaze. I haven't found a good way to do this though. Backblaze seems really good but I don't really feel comfortable sending 8 TB of consumable media to them.
Ideally...
Now here's my dream setup. If my employment gets extended, maybe that's pretty soon.

Now this is a pretty ridiculous setup. Buying an additional eight 4TB HDD's is not cheap.
I could also just make my current Node 304 into a file server, and run RAID 5, or maybe RAID 10 on it for extra safety, and start using my old Mac Mini as my Plex server again. I need to get some hard drives though that can temporarily hold the 8 TB of data I currently have.
Well I haven't settled for anything yet, and that's why I wanted to move these 16 TB of data around this weekend: I don't have to care about where the Synology user data is anymore. The Synology is self contained and I can freely move my 4 TB Drives around without worrying about my brothers wedding photos disappearing.
Migrating to smaller Hard Drives in a Synology

I created a Reddit thread to ask about how to do this properly, but I'll summarize it here now that I have done it and I can confirm it works:

Make sure the data you want to move will fit onto the smaller HDDs (in my case, all the home folders were a total of 86 GB, which a 1 TB is plenty for)
Backup the homes folder using Hyper Backup. I used a USB drive. (The homes folder contains all the users home folders, that only the admin user can access). This also backs up the Configuration for the system.
Shutdown the Synology, and do the obvious things (remove old drives, put in the smaller ones) and then boot it up again
Set up the Synology as if it was a new one. Use find.synology.com to find it in your web browser. Use the same Synology account and such.
If you backed up any applications using Hyper Backup, install those (I had to install Photo Station)
Plug in USB drive, open up Hyper Backup, click the little clock icon in the lower-left, and click Restore from other medium (it's a blue link, I can't remember exactly what is was called), and pick your old backup and let it restore everything it can:
Done!

Now, there are some caveats with the configuration it doesn't backup all of your settings. Here's what I have noticed it didn't restore and I had to re-set myself: - UPS Settings - Notification Settings - Admin 2FA - User individual Photo Station (the photos are still there, just need to re-enable for each user) - DDNS (Outside Access settings)

Doing this, I successfully moved all my home folders from a 4 TB drive, to a 1 TB drive
---
1. This particular Node 304 is currently also my Plex server. It has a i3-6100 with 4 GB of RAM, and uses Windows 10 x64 as its OS. Node 304 refers to its case, the Fractal Design Node 304. You can read more about this particular computer here